Wednesday, March 22nd, 2017 Edition of The Daily Standard
Online Local News Stories
ROCKFORD - The Ohio Department of Natural Resources has granted Parkway Local Schools a hunting permit to help fight an invasion of turkey vultures at the football field. Rockford Police Chief Paul May told the newspaper the pe . . .
CELINA - A 38-year-old Fort Wayne, Indiana, man was sentenced to 30 months in prison for his involvement in the Sept. 23 robbery of the Second National Bank, 800 N. Main St., Celina. Casey Atkins was sentenced on Tuesday by Mer . . .
Last Saturday marked the end of another great basketball season for Grand Lake Area basketball teams. How good, you ask? Well, four MAC boys' teams (Marion Local, Versailles, Fort Recovery and Delphos St. John's) advanced t . . .
Print and E-Edition Only News Stories
• Village OKs Dannon tax abatement
• Property revaluation ongoing
• Rockford council picks Now
• Commissioners wear wacky socks for Down Syndrome Day
• Fort board OKs bus purchases
• Celina woman gets 180 days on drug charge
• Former Fort Recovery teacher challenges magistrate's ruling
• New inn opens for business
Local Obituaries
Paul E. Bonifas, 61, formerly of Celina, OH died Saturday March 18, 2017 in the emergency department of Defiance Regional Hospital. He was born September 15, 1955 in Lima, OH to Vernon and Angela (Vogt) Bonifas. On September 29 . . .
Jeremy D. Bricker, age 34, Celina, OH, died on Monday, March 20, 2017 at his residence in Celina. He was born April 21, 1982 in Coldwater, OH. Survivors include his mother, Barbara Marino, Pittsburg, PA; a brother, Jesse . . .
Francis X. Brown, 86, of Wapakoneta, died 3:04 a.m., Tues. March 21, 2017, at The Gardens of Wapakoneta. He was born Nov. 7, 1930, in Glynwood, OH, the son of Roy & Alodia (Oen) Brown, who preceded him in death. On Sept. 23, 19 . . .
JoAnn Lampert, age 83, of St. Marys, Ohio, passed away on Monday, March 20, 2017 at 4:35 pm, at St. Marys Living Center. She was born November 1, 1933 in New Bremen, OH, to the late Clayton and Corrine (Hollings-worth) Schnell. . . .
Paul Edward Meeds, age 99, of Celina, OH, passed away at St. Rita's Medical Center, Lima, OH, on Tuesday, March 21, 2017 at 1:42 am. He was born September 21, 1917 in Piqua, OH to the late Elvy W. and Mamie A. (Sheets) Meeds. H . . .
Local Pictures
World Pictures
Community Pictures



Photo Albums
Wednesday, March 22

Saturday, March 18

Wednesday, March 15

Saturday, March 11


Online Video
Saturday, February 4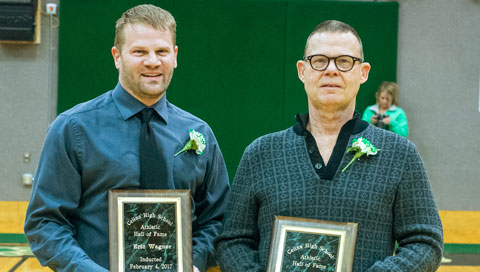 Tweets by @TheDS_sports