Tuesday, January 17th, 2017
Anchors aweigh: Teen ships out in June for U.S. Naval Academy
By Jared Mauch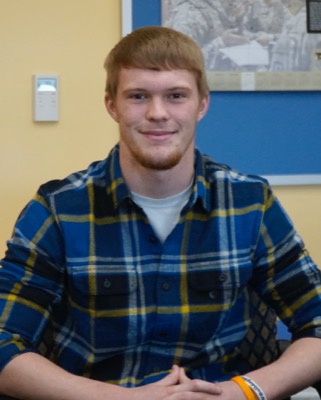 ST. MARYS - A Memorial High School senior is looking forward to the many challenges in store for him at the U.S. Naval Academy.
Eric Spicer recently told the newspaper that he leaves for the academy in Annapolis, Maryland, on June 29 and will work to become a naval officer during his four-year stint.
"It's nice to know everything that I've done has been worth it to this point. ... It's one of the most difficult physical and mental challenges that you can face," Spicer said.
Following a military path is a family tradition. Spicer's father and grandfather both enlisted in the Navy and his uncle served as an officer with the Air Force.
"Being an officer was something that I wanted to strive to accomplish," he said. "Being an officer and the first one in my (immediate) family was something that I thought would be cool and set my goal to do that."
His family told him to expect a whole different life away from St. Marys, Spicer noted.
"They told me that I'm going to meet different kinds of people and see different things that I wouldn't get to experience here in St. Marys," he said.
Spicer will be a member of the 2021 academy graduating class and plans to major in mechanical engineering, he said.
Spicer and his mother, Laura, thanked school district officials during the Jan. 11 school board meeting for their help and support with the application process.
Spicer especially thanked school board member Ronda Shelby for her help and presented her a bouquet.
He said Shelby took time to coach him in interviewing and help him through the application process.
"We would've been lost without her, and we wouldn't have even got through the nomination process," he said at the board meeting.
Shelby has had previous experience with the application process as a former member of the nomination committee for Rep. Jim Jordan, R-Urbana, Spicer said Friday.
"She has been through the process before and has helped people in St. Marys," he said.
To be considered, Spicer needed to be nominated by a congressman or senator along with completing application essays and paperwork. Spicer received nominations last year from both Jordan and Sen. Rob Portman, R-Cincinnati. The nominations and application were then reviewed by the academy's own selection board.
"At times I was at wit's end, but it was definitely worth it now that I got accepted," he said. "It seemed really long when we were doing it, but now it seems like it was just yesterday when we started."
Laura Spicer said she didn't know what the application process included and wanted to look into it before beginning. A few weeks later, last February, after her son decided to apply, Shelby approached them after a school board meeting to offer to help.
"They say that it takes a village to raise
a child and I can definitely say we picked a good one for ours," she said during last week's board meeting.
Laura Spicer also thanked high school principal Bill Ruane for help completing the application and answering questions over the past few months.
"We're very fortunate in St. Marys. All our kids who have gone to the academy have graduated," Shelby said at the meeting.
Spicer did not travel to Maryland during the application process but had visited twice before, once for a football camp and another time for a summer seminar for those interested in attending the academy, he said.
Spicer was the starting running back for the Roughriders in 2016, and he plans to try out for Navy's football team when he arrives in June. Everyone at the academy is required to participate in a sport either on the collegiate or intramural level, he said.
"I figure I might as well try out," he said.