By Gary R. Rasberry
grasberry@dailystandard.com
ST. HENRY -- After a successful season that saw the program win its fifth state title and first in the last 10 years, St. Henry will see two of its football players move on to the NCAA Division I-AA and Division II level.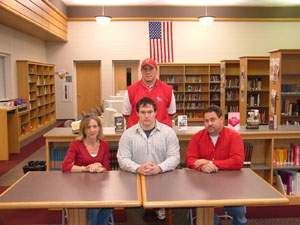 Defensive lineman Kalen Hemmelgarn will take his game south to coach Mike Kelly and the University of Dayton, one of the most successful programs year in and year out in Division I-AA. Running back Jon Hemmelgarn will look to help Tiffin University as the college joins a new league that's set to debut in 2006.
Jon Hemmelgarn got plenty of interest from other small schools around the region, but it was the offer from Tiffin that finally won over his attention. The 5-9, 170-pound running back signed his letter-of-intent on the national signing day of Feb. 2
"There were alot of schools interested," said Jon, who will major in English Education. "Narrowing it down, I had to take in the education aspects as well as athletics. Tiffin was the best fit."
Jon, who entered the season with two 1,000-yard efforts, had a strong regular season to get another 1,000-plus yards, but really came to life in the playoffs, rushing for 872 yards in five playoffs games and finished his senior campaign with 2,290 yards and 30 touchdowns. "Everyone did a great job," said Jon Hemmelgarn about his teammates. "In the second half of the season, I had something to prove, knowing it would help you get looked at."
The Dragons, coached by Nate Cole, are in their second season as a Division II team after playing in the NAIA in the past. The team is 11-11 in those two seasons and will move from an independent to the Great Lakes Football Conference for the 2006 season.
Tiffin featured a potent offense that averaged 416.6 yards per game this past season as the Dragons went 5-6. Graduating receiver Nate Washington made 69 catches for 1,428 yards and may draw some interest from the NFL Draft. The team is balanced though, rushing for an average of 197.9 yards per game.
"They keep it as balanced as possible," said Jon. "They are about even with the run-pass ratio."
"Jon can do a lot of things for them offensively," said St. Henry coach Jeff Starkey. "Jon can line up in the slot -- either inside or outside -- (and) can play tailback. I think what impresses most people about Jon is how hard he runs. For a 5-8, 5-9 170-pound back, he runs like he's 220."
Kalen Hemmelgarn was the solid center of the Redskins' defensive line this past season. The 6-0, 250-pound tackle had 91 tackles and eight sacks for the Redskins. Nineteen tackles were for loss and Kalen was credited for 32 quarterback pressures.
Kalen joins a Dayton team that has been a winner during Kelly's tenure. The Flyers were 7-3 last season, losing their two games of the season by a total of 10 points to Pioneer Football League foes Drake and San Diego.
"I really like the program," said Kalen. "It was one of the reasons I wanted to go. It's always had a winning tradition (Kelly is 215-43-1 in 23 years as coach).
"Everyone in the program I've talked to really likes it there. It's a big family atmosphere. That's what we've had here this last season with the playoff run."
"Kalen playing at UD is a great fit for him," said Starkey. "Kalen is such a strong student and a great football player. I think coach Kelly recruits the special types of kids. He's looking for the right things athletically, but I don't think in my experience in college recruiting that I have ever seen a coach that does so much in-depth research on character (as Kelly). Personally I think that makes it pretty special for us knowing that Kalen fits that mold."
Since UD doesn't give football scholarships, education played a big part in the decision as well.
"They have a real good business program," said Kalen, who will major in business management and marketing. "That's one of the main reasons I chose Dayton."
"It's an excellent opportunity for both of those kids," said Starkey. "They've worked very hard to put themselves in that position. They're both excellent students. Both had outstanding careers here and outstanding senior seasons. We look forward to watching them play at the next level."