By Gary R. Rasberry
grasberry@dailystandard.com
BOWLING GREEN -- Adam Johns said it best on Wednesday night.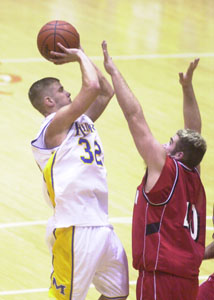 "You get into one of those grooves, it's like 'give me the ball every time,'" said the St. Marys sophomore center. "You can air ball a few, but keep shooting, it will go in."
Johns, as well as his other Roughriders teammates, did not have many airballs on the night as St. Marys shot 65 percent from the floor in a 68-42 trouncing of Wauseon in the Division II district semifinals at Anderson Arena on the campus of Bowling Green State University.
The win puts the Roughriders (20-3) in the district finals at BGSU on Saturday at 8 p.m. against Van Wert. The Cougars outscored Napoleon 21-8 in the fourth quarter to win the opening game, 55-41.
St. Marys hit a hot streak early and the fire kept blazing until well after the game was put out of reach. The Indians (10-12) shot a decent 50 percent early, but that wasn't enough to keep up with the pace that the Roughriders were scoring at. Johns had the best percentage of the night in hitting 7-of-8 (87.5 percent) but he was not the only hot hand.
Wes Clark made his first four shots of the game and finished hitting 10-of-12 (83.3 percent) for a game-high 23 points -- to go along with seven assists -- as the Roughriders had one of their best nights shooting of the season.
"We haven't had one of those games where we've had multiple guys going at one time," said St. Marys coach Josh Leslie. "We've had nights where Wes has carried us, where Adam or Tom (Burke) carried us or Corey Vossler carried us. That's what you like to see now because with each game you have to have more guys step up their game."
The Roughriders started inside, getting the ball to Johns. The sophomore had nine of his 19 points in the first quarter. Once Wauseon shifted defensively to try and stop Johns, Clark and Burke took over. The pair were a combined 4-of-7 from beyond the three-point line in the game. Burke was the third Roughrider in double figures with 10 points.
"We try to make it our goal to start inside and go out," said Leslie. "We were attacking the basket as much as possible early and gain a little bit of confidence. You start with two-footers, then it's five-footers. Next thing you know, you have what we had tonight.
"That's the best we've played, probably, the last half of the season. With getting the late start, that's pretty conducive because you should be peaking at the right time," added Leslie.
"I knew they were capable of it," said Wauseon coach Ken Burgei of the Roughriders' hot shooting. "They could penetrate and create things off the dribble. We knew our one-on-one defense was going to be big. We also didn't respond to their ball screens. They turn the corner pretty quick."
The Indians, however, did not go away. Senior Jake Reckner found his way inside, scoring 13 of Wauseon's 23 first-half points as the team shot 50 percent (10-of-20) from the floor.
"My concern at halftime was Reckner," said Leslie. "We were letting him flash across the lane, letting him do whatever he wanted to do. You can't let a guy to that. I thought in the first half we let him do that. In the second half, we told them to keep one foot in the lane, pack it in and make someone other than him make a shot."
The plan worked as Reckner was held to just five points in the second half to finish with a team-high 18. The 50-percent shooting in the first half was hacked down to a 4-of-23 second half (17.4 percent).
Now the Roughriders get another game against Van Wert. The last time the teams played, St. Marys scored on a Todd Graves jumper with less than a second left to give St. Marys a 48-47 win.
Leslie is certain that the rematch will be much like Game One.
"Hopefully, we can carry some of that shooting into Saturday's game, because it's going to be a dandy," said Leslie. "It's something that some were expecting to see -- a matchup between us and Van Wert or Elida in the mix too. The last game came down to the last 8/10 of a second. ... I would pretty much expect a battle on Saturday. Two very athletic teams. Dave (Van Wert coach Dave Froelich) does a pretty good job with those teams. I wouldn't expect to see an 88-85 barnburner, it's going to be tough for points to come by because both teams know each other so well. Dave and I traded tapes tonight, so you know there's no secrets."