By ROBERT HEMMELGARN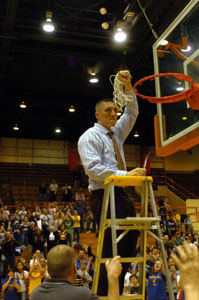 Standard Correspondent

BOWLING GREEN -- In nearly every one of St. Marys' 19 previous wins this year, the heros of the game remained pretty consistent.
Whether it was the three-point finesse of senior Tom Burke, the timely shooting and stifling defense of Wes Clark, or the inside domination of sophomore Adam Johns, the Roughriders continually buried opponents with a wide variety of weapons. On Saturday night, senior Todd Graves stepped into the limelight as his 12 points and 13 rebounds helped the Roughriders eliminate the Van Wert Cougars, 60-57, at Anderson Arena on the campus of Bowling Green State University.
It was the second win for the Roughriders over their Western Buckeye League counterparts this season. The first was a one-point squeaker at McBroom Gymnasium on January 14, where a jump shot by Graves with under a second to play, gave his team the victory.
"What a heck of a game tonight," Roughrider head coach Josh Leslie commented with a sigh of relief. "That was definitely worth the price of admission. I would have paid to see that game, and I never pay to see high school games!" he joked after his team's 20th win tied the school record set during the 1992-1993 season.
He continued, "We had a lot of kids do a lot of great things tonight. Deron Steinke hit a huge three and Todd (Graves) added a lot of key points and was excellent on the boards. We beat a very good team tonight and it was just electric down there on the floor."
The first-half intensity set the tone for things yet to come, as the Roughriders took a 24-23 lead at halftime. There were seven lead changes in the half and neither team held more than a two-point advantage for the majority of the second period.
The Cougars and Roughriders experienced an offensive lull in the third quarter, combining for just 11 points, as the score was knotted at 29 points heading into the final eight minutes of regulation action.
"In a game where you're not able to gain a lot of momentum offensively, each possession becomes so important," said Cougar head coach Dave Froelich. "We would hit a few big shots and then they would come down and do the same thing. I'm very proud of the way my kids battled tonight and I told them sometimes with the thrill of the chase, you don't always catch what you want. I know they are disappointed and so am I, but we lost to a very solid team and have nothing to hang our heads about."
Graves opened the fourth quarter with a three-point bomb. A jump shot by Clark just over a minute later, gave the Roughriders a 34-29 lead with just over five and a half minutes to play.
The Cougars answered in a hurry with a 6-1 spurt, and the score was deadlocked at 35 points with just under two minutes left to play.
Neither team could score for the remainder of regulation, pushing the game into its first overtime period.
Van Wert's Rian Rainey picked up six of his game-high 20 points in the first 2:30 of the first OT period, but a pivotal long ball by Deron Steinke knotted the score at 43-43. Van Wert's John Moonshower connected on a pair of free throws with 17 seconds remaining, but a 15-foot jump shot from the right elbow by Adam Johns was met with a frenzied roar from the St. Marys crowd as the game was sent into another overtime.
The Roughriders made their final statement early in the period when they scored the first nine points to bolt ahead 54-45.
While defeat appeared certain, the Cougars refused to fold without one last burst. Froelich's club pulled to within two points on a couple of different occasions, but a free throw by Johns with three seconds remaining, secured the 60-57 Roughrider win.
In the second overtime period, St. Marys hit 13-of-21 free-throw attempts ultimately aiding in the victory. Van Wert sunk just 4-of-8 from the charity stripe in the first overtime, and they missed their only two attempts in overtime number two.
"We knew it would be a low-scoring game and for the first four quarters it was," remarked Leslie. "They hit some big shots and we were forced to respond. When both teams are hitting shots, I think you try to rush the scoring a little more, so that's why we combined for so many points during the overtime period."
For the game, Rainey and Moonshower led all scorers with 20 and 17 points respectively. St. Marys placed four in double digits with Tom Burke leading the way with 15 points. Graves, Johns, and Corey Vossler all added 12 points in the winning effort, with Graves leading all rebounders with 13 boards.
The win gave Memorial High School their first boy's basketball district title in over 10 years and propels them into the regional semifinals on Wednesday night in Toledo against the number one-ranked Upper Sandusky Rams.
"We're in a heck of a regional aren't we?" chuckled Leslie. "I told the kids we have to keep believing in ourselves and leaving it all on the floor. Last year we handed Ottawa-Glandorf their only loss of the season, so you just never know. We look for a great game in a great atmosphere and I'm sure the kids will give it their all."