By Shelley Grieshop
sgrieshop@dailystandard.com
ST. HENRY -- Mitch Dorner raised his wooden car close to his ear as if it were whispering while waiting to place it on the shiny, four-lane track.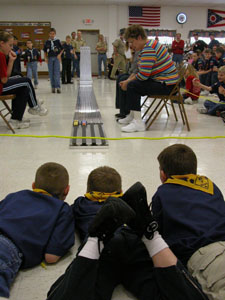 The black, Pinewood Derby car may have been telling the 8-year-old it was time for a pit stop as it fell behind in the next race inside the St. Henry American Legion hall on Sunday.
"I picked the color black because it's lucky," said Dorner, satisfied after coming in third in his division.
The room was full of small and big racers as Cub Scout Pack 101 of St. Henry held their annual Pinewood Derby race. The local pack holds competition for all its divisions -- Tigers, Wolves, Bears, Webelos -- and Scout parents, too.
"The kids get real excited for this," said Rick Koesters, Cubmaster of the scouting group. "We try to make it a big event, inviting grandparents and friends. We pop popcorn and have pop ... There's just something about racing." Cub Scout packs across the country hold Pinewood Derby races each year as a way to team up the relationship between child and parent, help children experience a sense of accomplishment from building their own vehicle and to teach good sportsmanship.
The very first Pinewood Derby event was held in 1953 by Cub Scout Pack 280C of Manhattan Beach, Calif. Since then parents and Scouts have purchased millions of wooden car kits -- carving, assembling, adjusting weights and painting -- with the intention of building the fastest car ever.
Twins Josh and Jorden Stelzer, 8, competed against each other Sunday with the latter boy's red and white car faring somewhat better than his brother's. Jorden says he chose number 20 for his car "because Josh already took the number eight."
When asked if the boys had privately raced their cars at home first, Jorden explained: "I was going to put our cars on grandma's treadmill," but the young boy was cut short by a frown from his father, Ron Stelzer, who evidently stopped the treadmill idea in its tracks.
This was the debut for the pack's official four-lane Pinewood Derby 36-foot track that replaced an older six-lane one made of wood.
"The old track had more lanes, but the wood was warped and only two lanes were being used anymore," Koesters said, adding the new one is made of aluminum.
Winning derby cars had to come in first place in each lane of the track to win their division. The four judges, seated atop the finish line, sweated through many photo-finishes before declaring winners including overall champion Ryan Barhorst.
As the Scouts' contest came to a close, about a dozen adults prepared for their race, many talking about the Pinewood Derby days they participated in as a kid.
"The judges said they will take bribes," guest announcer Josh Link (the voice of the Redskins basketball team) said as the adults chuckled their way to the starting line.
St. Henry volunteer firefighter Mike Roll carried his replica fire truck toward the track, reminding his competition that "everybody must yield to a fire truck."
As the competition dwindled, Koesters and Scout parent Dan Heitkamp were on top. At the conclusion of each heart-stopping heat, Cub Scouts of all sizes high-fived Cubmaster Koesters and cheered him on with chants of "Rick!, Rick!, Rick!"
And with the crowd on his side Koesters won the single-elimination race as his derby car slid down lane two to the finish.
"I've been trying to win this for 12 years," Koesters said with a smile.
The win came just in time. This year marks his youngest son's last year to compete, and Koesters' last year as Cubmaster.
But winning wasn't the high point, he adds.
"The big thing here is parents have to work together with their son to make this race happen," Koesters says. "You look around, and it's easy to see that this brings the whole family in."