By Betty Lawrence
blawrence@dailystandard.com
CHICKASAW -- Hairs and money were flying everywhere Wednesday night in Chickasaw.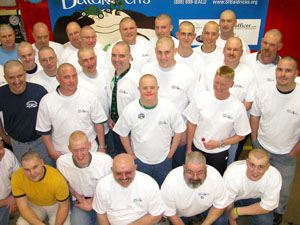 A group of 28 local people had their heads shaved at the Chickasaw Firehouse as a fund-raiser for the St. Baldrick's Foundation.
One man, Yorkshire Mayor Wayne Bowers, who hasn't cut his hair in two years, had his head shaven and donated his 12-plus inches of hair to Locks of Love.
Chickasaw Fire Chief Mark Seitz this morning reported $4,988.52 was raised, with donations still coming in.
"Our goal was $5,000, and I think we'll exceed that," he said. Monies for the St. Baldrick's Foundation are used to fund childhood cancer research, and the Locks of Love program uses donated hair to make wigs for people who have lost their hair due to medical treatment.
St. Baldrick's Day originated in 2000 with volunteers agreeing to shave their heads in public in return for pledges of financial support. The local event is sponsored by the Chickasaw Fire Department, and most of the participants were firemen.
At the firehouse, hairdressers Sherry Pohlman, Katie Langenkamp and Allison Huelsman, all of Hair Affair in Celina, and Sarah Kelch, of Total Image in Versailles, stood by four wooden chairs with clippers in hand.
"We make it fun. Sometimes we shave smiley faces on the heads, or words, or lines," Pohlman said.
Bowers' long locks first were sectioned off with rubber bands.
"Now I know what Pippi Longstocking looks like," he said, just before Pohlman clipped off the hair with a scissors.
The hair was bagged for the Locks of Love program and given to Audrey Subler of Chickasaw, who organized the fund-raiser with her husband, Dan. Bowers' head then was shaved.
"It feels really different, and the room seems cold," Bowers, 51, said as he rubbed his bald head.
His wife, Linda, was prepared, offering him a stocking cap. His family also presented him with a wig.
Chiming in to help the cause was Rick Pleiman of Yorkshire, who donated $20 for each inch of hair clipped off Bowers' head for a single donation of $240.
Bowers and his wife, Linda (Toots), who own E&R Pub in Yorkshire, also had set out a fireman's boot in their business for donations to St. Baldrick's, which yielded more than $600.
"You do what you can to help others, and it's a fantastic worthwhile cause. I'm so proud of my patrons, and the people of Yorkshire who donated," Bowers said.
As the donations were coming in Wednesday night, Dan Subler shouted, "I have a woman here who will shave her head if we raise $100."
In a matter of minutes, $150 was raised and Becky Thobe of Chickasaw became the first woman to shave her hair at the local St. Baldrick's event. Her husband, Nick, is a fireman and also had his head shaved, along with their son, Ross.
Her husband likes the GI Jane look, Thobe said.
The Sublers have organized the St. Baldrick's Day fund-raiser in Chickasaw for the past three years.