By Ryan Hines
rhines@dailystandard.com
COLUMBUS -- If hitting the shot that wins the state title is the dream of every high school basketball player, then losing in the state tournament on a buzzer-beater has to be considered a nightmare.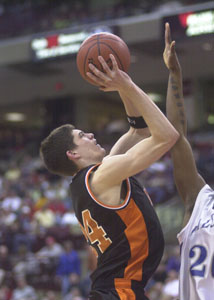 Cleveland Heights Lutheran East capped one of the most exciting games in state tournament history with one of the best finishes in the 83-year running boys state tournament, regardless of division.
Donnel Washington drilled a three-pointer as time expired lifting Lutheran East to an 86-84 double-overtime win over Minster in Division IV state semifinal action at the Schottenstein Center on Thursday night.
Those in attendance got more than their money's worth as neither team had more than a four-point lead in the fourth quarter or either overtime period.
"What a great ball game, an absolute great ball game," said Lutheran East head coach Roger McClinton, who joked with the media about watching this game for free on press row. "That other team also played a great ball game out there. I'm just really proud of my guys. In the first half I don't think that Donnel was in the type of rhythm that he needed to be in so I didn't put him in the game very much but he knows he had to stay prepared and he worked his magic for us." "Naturally, it was a great run. It didn't end the way that we wanted it to but we guaranteed to our fans and our community that we were going to lay it on the line at state and they did that," said Minster head coach Mike Lee. "We just ran into a buzzsaw in terms of their great quickness and their ability to stroke it."
Washington's heroic moment may never have happened if Minster had been able to convert on its free-throw opportunities late in the game. The Wildcats shot just 16-of-33 (48 percent) from the free-throw line in the game and just 2-of-7 (29 percent) in the two overtime periods.
"We don't talk a lot about stats but when I looked at the stat sheet after the game, that was one statistic that I looked at," said Lee. "When you lose by a short margin the way that we did, there's not much else to say about the free throws. It's uncharacteristic for us. We shoot 65-66 percent from the line for the season, which is not great, but in the long run it's free throws that cost us."
Trailing 83-82, Minster's Justin Spillers made a terrific move in the paint and banked home a deuce giving the Wildcats an 84-83 lead with 1:22 left in the second overtime.
Following a Lutheran East miss, Minster's Jake Luttmer was fouled with just 33.2 seconds left on the clock with a chance to build on the Wildcats' one-point advantage.
Luttmer, who had made his first five free-throw attempts in the game and was the only Minster player to play that didn't miss any free throws in the game to that point, missed both tries leading to a Lutheran East timeout where McClinton drew up the game-winning play.
"The last play that I drew up to get the ball to Donnel worked perfectly," said McClinton. "I knew that they were going to be keying on Sam and Jon (Liggins brothers) so I told the guys that we had to get the ball to Donnel.
"That shot was in God's hands," said an overjoyed Washington after the game. "After the timeout, Sam was just supposed to make something happen for us like he has all year long and it just so happened that they triple-teamed him and I was wide open. I didn't think about the shot, I just got the ball and shot it. This is a dream, obviously this was meant to be."
Sam Liggins brought the ball up the floor but was trapped by a pair of Minster defenders. Liggins' pass ended up in the Washington's hands where he hit a fall away three to win it for the Falcons.
"We ran a couple of guys at their point guard because we wanted to shut down penetration, and we did that on a couple of other occasions tonight and it worked for us, they just got a great kickout pass and Washington hit the biggest of shots," said Lee. "I don't think that we would have defended the final play any differently. It wasn't a layup, it wasn't a 15-footer off the glass, he drained a big shot in a big moment."
"When he shot it, I didn't think that it was going to go in," said Minster senior co-captain Dane Sommer. "He was fading away in the corner and I saw that it hit the rim right away but it went right back in and then I looked at the clock and we didn't have any time left. Losing in the state semifinals in double-overtime on a last second fade-away three from the corner. .... It's tough. If we could have made our free throws it would have been different."
Washington, who played just four minutes in the first half, scored 22 points with the aid of six three-pointers. Washington's backcourt mates, Jon and Sam Liggins, added 24 and 22 points.
"These guys have truly been a blessing for us," said McClinton. "They bring a lot to our basketball team and a lot of pride to our school. They do most of our scoring and they just played their game."
The heart-breaking loss overshadowed some excellent individual performances by Minster, which combined with Lutheran East to set a Division IV state semifinal record for most points in a game with 170 breaking the mark of 166 total points totaled in 1994 when Worthington Christian defeated Fort Recovery (89-77).
Dane Sommer had a team-high 22 points to go along with a game-high 12 assists. Spillers had his third straight double-double of the postseason with 18 points and 13 rebounds. Andy Beckman also had a double-double with 11 points and a game-high 18 rebounds while Zac Boeke was the fourth Wildcat in double figures with 17 points, which included five three-point bombs.
"These kids have been great for us and they have nothing to be ashamed of losing at this level, but when they look back they have a lot to be proud of," said Lee.
Minster led the entire game until late in the fourth quarter when Lutheran East's talented trio of guards took over the game with their incredible quickness.
"We saw quickness in the regional at UD (Dayton Arena), but I think that they took it to another level because these guys are not only quick off the dribble but they also can stop and shoot it," said Lee. "Their quickness hurt us and we went zone a few times with some success but we just didn't rebound the ball well in the zone so we had to switch back to a man."