By Gary R. Rasberry
grasberry@dailystandard.com
MINSTER -- For one of the most prolific runners the past several years in the Midwest Athletic Conference, Ty Parks found a prolific school to continue his education and football career.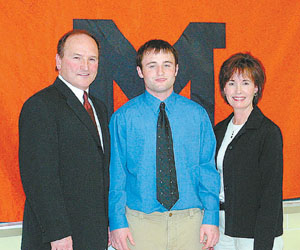 The Minster tailback has chosen to attend Mount Union College in Alliance after graduation this spring, finding a home at a school that has one of the strongest football traditions in NCAA Division III.
The Purple Raiders have won the Division III title seven times in the past 11 seasons under the guidance of coach Larry Kehres, who is 219-19-3 in 19 seasons at his alma mater. The Purple Raiders have currently won 104 straight regular season games and 121 of their last 124 games.
"It's the top program in Division III in the country," said Parks. "I wanted the challenge to play for the best. I fell in love with the coaches and the school. I just really like it up there.
"We took a tour around the campus," said Parks, who will major in education. "I had not seen any place that size with nicer facilities and better people. It's just top of the line and that's why I chose there." Whit Parks, the Wildcats' head coach and father of Ty, had the mix of coachly and fatherly pride in seeing his son and running back go to Mount Union.
"There's a little of both in that," said coach Parks. "As a coach, I have done this so many times (college signings) with other people's children for 32 years. It's been very exciting. Now, to do it with your own child, it's very exciting. Since it's my alma mater and where I played, it's more exciting for my family because of that connection.
"Most of all, Ty visited a lot of places and looked at it very conscientiously, and made a great decision. We're real excited about that."
The Raiders, who play in the Ohio Athletic Conference, boasted a balance of passing and running. Four players rushed for 475 or more yards last season and the team averaged 240.6 yards per game.
"I've been up there for camp for the past 2-3 years," said Ty. "I've got to know them well. We had a really good relationship started. Coach (Jason) Candle, the receivers coach who handles our area for recruiting, called me often. ... I like the people up there a lot."
Parks' running has been dominating since he broke into the lineup as a sophomore in coach Parks' single-wing formation. In just two years, Ty set not only the Minster season rushing record of 1,574 yards during his sophomore year in earning first team All-Ohio honors in Division VI, but broke the Wildcats' career rushing record during his junior year, finishing with 2,897 yards in just two years.
Before his senior year, though, Parks had to take on a new task -- that of the quarterback in the formation. Parks now not only had to run the ball, he was also be responsible for throwing the ball.
Parks finished second behind St. Henry's Jon Hemmelgarn in the MAC rushing leaders with 1,274 yards and completed 47 percent of his passes (62-of-132) for 898 yards and seven touchdowns. Parks earned first team All-MAC honors as a running back and finished his career with 4,171 yards rushing.
"It's been an experience that I will never forget," said Ty. "I'll probably never have another experience like playing high school football ever again, especially playing for my dad and a school I really love."
Ty believes that the play in the MAC has helped him in getting to Mount Union.
"When you go up against top-notch opponents week in and week out (in the MAC), it can do nothing but help you prepare for playing at the next level," said Parks. "I don't think there's anyone who plays a tougher schedule than we do."