By Shelley Grieshop
sgrieshop@dailystandard.com
ROCKFORD -- Another local doctor reluctantly has quit the practice of delivering newborns as a result of rising malpractice insurance costs.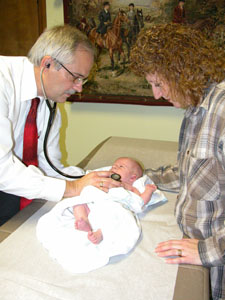 Dr. Jerry Sell, 58, of Rockford, who has delivered more than 2,000 babies at Van Wert County Hospital during the last 26 years, made his last delivery Thursday.
"Obstetrics has been the favorite part of my medical practice," Sell told The Daily Standard.
The last baby brought into the world by Sell, an emotional event for all, was a healthy son born to Celina residents Kelly and Jason Black.
Sell, who delivered babies naturally and via c-section, also is stepping down as the hospital's chief of obstetrics and will no longer operate a free prenatal clinic that he established in 1979. Sell's absence in the obstetrics department leaves the Van Wert hospital with only one doctor on staff to bring new babies into the world.
"Yes, we'll be left with just one OB (obstetrics/gynecology physician) practicing as of the end of this month," confirmed Jon Tomlinson, hospital public relations director.
Sell's contract with the hospital officially ends March 31. He said his malpractice insurance premiums rose more than 150 percent during the last year. The insurance policy for his practice, which includes his associate Matthew Miller, went from $72,000 to $190,000 from 2004 to 2005. A single policy would have cost him $89,500 a year.
He and Miller, who also quit delivering babies, delivered on average 150 babies each year.
Sell said there definitely were no regrets from the insurance policy writers when he contacted them about leaving the obstetrics business.
"They told me 'We don't like writing these insurance policies anyway. We hope you quit,' " he said, adding it was evident that the shortage of obstetricians in the Van Wert community was of no concern to the insurance company.
Tomlinson said hospital officials have been searching unsuccessfully the last six months to recruit obstetric/gynecology physicians.
"If you look at the big picture, we're trying to recruit an OB/GYN to one of the worst states for high malpractice insurance rates," Tomlinson added. "It's no wonder we're still looking."
The only OB/GYN currently contracted with the hospital is Dr. Craig Hanson. The hospital averages between 300-325 births each year, Tomlinson said. The county's population is just over 29,000.
The loss of Sell was preceded locally last fall by the departure in the obstetrics field of Drs. Tom and Jim Schwieterman who maintain their family practice in Maria Stein. Although officials at Mercer County Community Hospital, Coldwater, were nervous at the thought of the Schwieterman's decision, they now feel comfortable with four OB/GYN's and one midwife on staff.
"But it was pretty shaky at first when they left," admitted director of marketing and communications Ken Obringer, who said the hospital delivered 398 babies in 2004. Mercer County's population averages 40,900.
Joint Township District Memorial Hospital, St. Marys, has three OB/GYN's on staff and two midwives and delivered 261 infants last year. Auglaize County's population is about 46,700.
Malpractice insurance premiums rose nearly 40 percent from 2003 to 2004, the most recent numbers available from the Ohio Department of Insurance. Nearly half of the physicians in Ohio report paying more than $50,000 per year for malpractice insurance. On average, almost 20 percent of all physicians' gross annual income goes to pay malpractice premium costs, according to ODI.
In a survey conducted by ODI, nearly 40 percent of more than 1,300 respondents said they have retired or plan to retire in the next three years due to rising insurance expenses. Only 9 percent of the respondents were over age 64.
Very few insurance companies in Ohio write malpractice policies for physicians. The companies say they have not shown a profit for those policies since the mid-1990s due to the cost of settling high-award court claims.
Gov. Bob Taft signed a bill in April 2003 to limit the amount a jury can award for damages in medical malpractice lawsuits, but not much else has been accomplished to better the situation in recent years.
However, ODI officials believe the situation may be stabilizing. Malpractice insurance rate increases were lower in 2004 than previous years, although still admittedly high, ODI reported.
Sell believes the right judges are now in place in the Ohio Supreme Court and progress could be made in the future. He'd like to see a review board set up to examine court cases -- throwing out frivolous lawsuits before they go before judges. Review boards currently are used in Indiana where malpractice insurance policies can be obtained for about $15,000 per year, Sell said.
Despite the attempts by lawmakers and the ODI to fix the situation, many doctors still are leaving obstetrics and other specialized fields particularly in rural areas. Those remaining say they've become more selective about taking on high-risk patients.
For Van Wert area residents, the immediate outlook is grim.
"It's an unfortunate situation when the insurance industry makes the call on who can delivery babies and who can't," added Tomlinson.