By Gary R. Rasberry
grasberry@dailystandard.com
Neither coach could complain about the opening day of softball as St. Henry and Celina got together for what has become the annual lidlifter for both teams.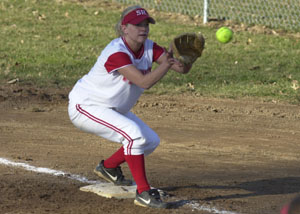 Celina got a strong pitching day from Melanie Heyne as the junior held St. Henry hitless for 62/3 innings before giving up a hit that scored the tying run for the Redskins.
The Redskins played a solid game in keeping Celina from scoring for 52/3 innings before giving up a run.
The Bulldogs were able to get another run across in the bottom of the seventh to come away with the 2-1 win in a game that was moved from St. Henry to Feth Diamond at Eastview Park.
The way the game started, however, some were wondering if the lights would need to come on before somebody scored. Heyne came up with a fantastic 2005 debut, striking out 15 batters in the game and holding the Redskins to just two walks over the first six innings.
"Mel pitched a very good game," said Celina skipper Brian Stetler. "She's been working very hard in the offseason and preparing hard. She had a very nice game. We'll take a lot of those games."
Josh Link was impressed with Heyne.
"The way Heyne was throwing, she was pretty much dominating us on her end," said the St. Henry coach. "We didn't get the bat on the ball."
But the Redskins were not letting Celina runners reach the plate. Karla Buschur was not overpowering like Heyne, getting just three strikeouts, but she did the next best thing, keeping Celina's hits on the ground as just a couple of Celina's hits were shots to the outfield. Celina had the bases loaded to begin the game, but Buschur and the defense was able to find a way to get out of the jams through the first five innings.
"She seemed to get better as the game went on," said Link. "... Karla did a great job of putting the ball into play and letting our defense play. This is a game to build on.
"We put the ball into play and (St. Henry) made the plays," said Stetler. "They made the plays they needed to make."
It looked like the luck finally ran out in the bottom of the sixth. After Shay Adams grounded out, Allison Braun doubled to right. After Heyne grounded to short, Kinsey Schumann, who already was 1-for-2 against Buschur, singled to left, scoring Braun to give Celina the 1-0 lead.
St. Henry had luck on its side in the top of the seventh. Megan Siefring, who walked her first two times up, led off with another walk and was taken out for pinch-runner Rachel Schmackers. After a wild pitch moved Schmackers to second, Brenda Hemmelgarn followed up with a perfect sacrifice bunt to move Schmackers to third. Erica Wilker came up and walked, then proceeded to move to second while Celina was not noticing. After Heyne struck out Lindsay Thobe, Mindy Siefring singled home Schmackers to tie the game. Wilker also tried to come around, but Schumann threw a strike to the waiting Adams at the plate for the third out.
Link started the bottom of the seventh by taking out Buschur and putting in Amy Uhlenhake to give Celina a change of pace. Rachael Swain came out to pinch-hit for Alyssa Schaffner. Swain singled up the middle to get the rally started. Jamie Siefker came up looking to sacrifice, but got down a perfect bunt that St. Henry could not make a play on, earning a hit. Link came out and brought Buschur back in to face Allison Hoying.
Hoying also laid down a perfect bunt that went for a hit to load the bases for Julia Siefring, but she struck out. Adams then laid down a bunt but Hemmelgarn stepped on the plate to force Swain out at home but could not throw out Adams at first, leaving the bases loaded.
Braun came up and took the first three pitches for balls then, after a strike, saw the next pitch come in low and out of the strike zone to end the game.
"Rachael is pretty aggressive," said Stetler of the final rally. "We like to have our players ready at all times. To her credit, she was. The next two up were coming up to bunt. ... Anyway to get that run around. It was tough getting that run in."
"I can't be more proud of the girls," said Link. "Batting back and scoring the tying run to even put it into the seventh. I can't ask for a better first outing out of Karla or the defense. This is the closest we've been against Celina for some time.
"If anyone wants to point fingers about us losing, they can blame me. Maybe putting Amy in wasn't the right thing to do at the time, but I told Amy I was pleased with what she did. They got a hit and a great bunt. There's not much more you can do pitching. She didn't walk anybody. I thought it was the perfect time for the switch," added Link.
Schumann and Hoying each went 2-for-3 for Celina.
Celina hosts Minster today at Feth Diamond while St. Henry will try to get a home game in today, hosting Fairlawn.