By Gary R. Rasberry
grasberry@dailystandard.com
League and conference matchups will get into full swing on Friday as the Western Buckeye League starts its slate and the Midwest Athletic Conference will have a partial slate scheduled.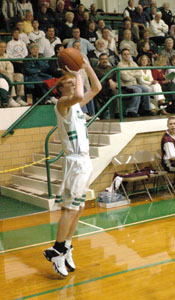 Due to state football success by Coldwater and St. John's, only three MAC games will take place, before the holiday break with all the league members in action in the start of the new year.
The big matchup in the area is the Battle of Grand Lake as Celina travels to McBroom Gymnasium for a matchup with St. Marys.
The teams have traded wins on opposing floors over the last couple of seasons, with St. Marys wrapping up a WBL title last season at the Fieldhouse.
Both teams sport new coaches, but the new coaches are experiencing differing starts. Celina -- The Bulldogs are 0-3 under new coach Chris Bihn. With just one veteran varsity player in the lineup, it's been a tough start for the Bulldogs.
Starting the league season against the biggest rival on both sides will certainly have a buzz throughout the gym on Friday. The fact that St. Marys won and celebrated a WBL title on Celina's home floor, much like the Bulldogs celebrated at McBroom two years ago, could have plenty of motivation for both sides.
Impact Player: Scott Luthman, #15, senior forward.
Luthman has the experience back from last season and has started off well for Celina. Luthman is averaging 13 points per game in his first three games, capped off by a season-high 17 in Saturday's loss to Bellefontaine.
St. Marys -- Cort Hamilton's start at St. Marys has been solid as all three games have been close with the Roughriders going 2-1.
Finding a scorer to go with the veteran consistency of Adam Johns is the key. The Roughriders got it Saturday as Aaron Pfeffenberger scored the first 21 points of the game for St. Marys and finished with 26.
A win in the league to round out 2005 would be a nice present to Hamilton and the Roughriders' building program.
Impact Player: Adam Johns, #44, junior center.
Johns has the capabilities to dominate the paint for St. Marys after having battled well against St. Henry's Kurt Huelsman (Division I signee with Dayton) last week. The 6-6 center averaged a double-double last weekend with 12 points and 11 rebounds per game.
Phone: (419)586-2371, Fax: (419)586-6271
All content copyright 2005
The Standard Printing Company
P.O. Box 140, Celina, OH 45822