Wednesday, July 5th, 2006
Offense hot and cold for Grand Lake
By Ryan Hines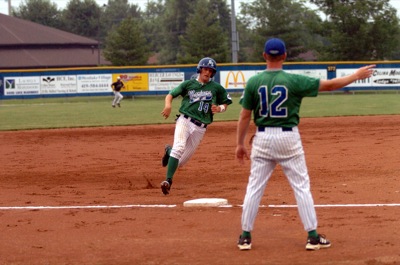 The Grand Lake Mariners split two games the past two days defeating Lake Erie 7-3 on Monday before losing to Lima during a matinee on Independence Day, 4-0.
The Mariners are now 10-13-1 this summer and have lost to the rival Locos three straight times since opening the Great Lakes Summer Collegiate League season with a victory over Lima.

Lima 4, Grand Lake 0
The Lima Locos threesome of John Frawley, Josh Varno and Damon Brewer combined for a three-hitter in the holiday shutout.
Frawley threw four shutout innings allowing one hit striking out two and walking just one to get the victory on the hill.
Varno, a Wapakoneta grad, continued his fine summer out of the bullpen with with four more shutout innings allowing two hits and striking out three with no walks. Varno has allowed just one earned run in 102/3 innings this summer.
Brewer struck out a pair of Mariners hitters in his one inning of work.
Travis Fultz and Bryan Bonner had RBI singles for Lima in the first inning to give the Locos a 2-0 advantage. Lima grabbed a 3-0 lead after a Jimmy Glanville RBI triple in the sixth inning before Bonner struck again with an RBI double later in the sixth.

Grand Lake 7, Lake Erie 3
Chris Kupillas mowed down Lake Erie hitters for seven innings striking out seven to lead Grand Lake to the Monday night win.
"The big thing for Chris is that he got all of his pitches over for strikes and that kept him in command," said Grand Lake manager Scott French. "He gained more and more confidence out there as he kept pounding the strike zone."
Kupillas was happy with his outing.
"I only threw 79 pitches, but I threw with maximum effort on each one of them," said Kupillas. "I was happy with the way things went tonight and I think that getting all of my pitches over for strikes had a lot to do with that.
"Coach French and Mike Dury have been helping me develop a changeup and I was able to throw that pretty well tonight and that will only help me in the future," added Kupillas.
Ryan Kruszke rebounded from a rough outing his last time out with a scoreless frame before Brian Rumple came on to pitch the ninth inning allowing a pair of runs.
The Mariners made sure that Kupillias' effort wasn't wasted taking advantage of Lake Erie miscues and breaking a scoreless tie in the fifth inning.
Dury started the inning by reaching on an error and was moved to second when Brooks Hunton drew a walk. Sean Hoorelbeke then failed to lay down a sacrifice bunt and then hit into a double play, sending Dury to third. Jason Selhorst then connected for a clutch two-out RBI double to leftfield scoring Dury for a 1-0 Mariners lead.
Lake Erie then committed two errors to start a rally for Grand Lake in the sixth inning.
Kevin Cislo and Bryant Witt reached on consecutive errors and Derek Martin made it 3-0 with a RBI single. Anthony Hayes contributed another RBI single to make it 4-0 before Dury crushed a double to left-centerfield scoring two more Mariners runs for a 6-0 advantage.
"They had a couple of screwups in the field and gave us a few runs and we have to keep taking advantage of those situations when they come up," said French. "Scoring runs has never been a concern for me with this team."
Derek Martin then capped the Grand Lake scoring with a two-run home run to leftfield as part of a three-hit night for the Mariners' third baseman.
"We put Derek in the middle of our lineup because we know what he can do with the bat and we're going to stick with him there," said French. "He's a switch hitter giving us a lot of versatility and he's been stepping up for us."
Kupillas was happy to see the offense start heating up in the fifth through seventh innings.
"I was starting to get a little nervous because it was scoreless for so long (first four innings)," said Kupillas. "We've got the type of lineup where you believe in your offense, no matter when it is in the game."
Hayes also had two hits for the Grand Lake, which is back in action again tonight on the road at Xenia.