Monday, July 10th, 2006
Sharing the blessings
By Shelley Grieshop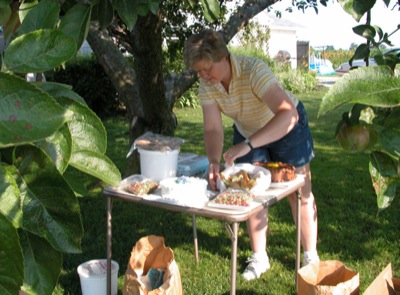 OSGOOD - Fresh green beans and a decorated carrot cake are nestled with other garden and homemade goodies on a table beneath a low-hanging apple tree at St. Maria's Community Farm.
On Saturday, traffic buzzed quickly by the fresh produce stand along state Route 705 where area residents sell their home-grown goods and baked items on Saturdays to benefit the less fortunate. Eileen Marchal and her son, Kurt, reposition the donated wares to make room for a few quart-sized bags of gooseberries.
"I've got to get back home, I'm making some gooseberry cobbler this morning," says Jude Grieshop, as she hands over several bags of the colorful fruit. "We're blessed with these things this year."
It doesn't take long before the women are swapping recipes for the gooseberries and several bags of pumpkin blossoms that appear as another vehicle pulls into the circle drive at the farmhouse.
St. Maria's, a summer-through-fall endeavor, is a joint effort by the local Catholic parishes of St. Nicholas in Osgood and St. Louis in North Star. Its mission began in 1995 by then pastor, the Rev. Jim Schmitmeyer, who now serves at St. Aloysius Gonzaga Church in Cincinnati.
"The couple that lived here used to do a lot for the community. They're our inspiration now," Elaine Marchal says.
Claude and Margaret Knapke, both deceased now, were very active in the North Star parish, Schmitmeyer says. They made a simple living off the seven-acre farm and Claude's job as a school bus driver, and always had time to devote to others, the pastor says.
"When Claude died in 1995, I rented the land and the barn from the new owner. I was already raising lambs for my own meat and decided Claude and Margaret's place would also be a good place to break horses," says the pastor, who still tames horses today.
The chickens, once raised by the Knapkes, were "adopted" by their friends. The eggs, the fees Schmitmeyer yielded from horse training and funds received from the sale of local produce were donated - 100 percent - to St. Vincent de Paul Society in Dayton, for the homeless.
The tradition continues today. St. Vincent de Paul gets a large portion of the money and some of the food that does not sell on Saturdays. Other funds go to a soup kitchen in Greenville, where many area youth and adults volunteer their services, Marchal says.
Schmitmeyer beams about St. Maria's success.
"One year our donations reached $6,000, says Schmitmeyer, who was reassigned to the Cincinnati parish in 2001.
Food and home-baked goods arrive throughout the morning from residents in Darke and surrounding counties, organizers say. At times, no one is available to man the stand, and the honor system goes into effect. A bucket on the table accepts whatever the giver can afford.
The stand, beginning this Saturday, will be moved down the road to a more spacious spot along U.S. 127 at Happy's Corner.
Mark Bergman, an Osgood resident, brags about the sweet rolls he brought today, straight from his mother's kitchen. Dozens of farm-fresh eggs are placed next to several beautiful cakes, hand-decorated by area baker Irene Jones.
"There's never a plain one, she always decorates them like this for the stand," Marchal says.
Talk turns to the local harvest of fruits and vegetables that appears to be a little earlier and more bountiful than usual for this time of year. sweet corn and zucchini - almost always in abundance locally - will soon fill the tables, they say.
"It's a unique way of sharing. We never know what we're going to get each week," Marchal says, as another car turns into the gravel driveway.