Friday, January 5th, 2007
Big home victory for Indians
Fort Recovery is now 10-0 after win over Minster
By Mark Ruschau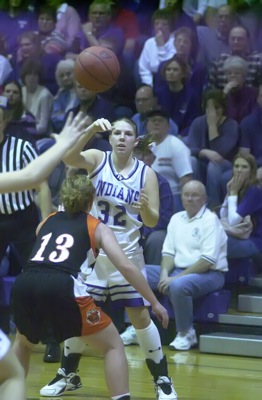 FORT RECOVERY - The Fort Recovery Indians continued their winning ways Thursday night by posting a 53-45 quality win over the Minster Wildcats in Midwest Athletic Conference action at Fort Site Fieldhouse.
With the win, Fort Recovery remains unscathed this season at 10-0 overall and 2-0 in the MAC while Minster falls to 1-1 in league play and 7-2 overall.
The key to this one was simple, the Indians' pressure defense that forced 26 Minster turnovers, which the Indians turned into 28 points.
"Tonight was a step in the right direction for us defensively," said Fort Recovery coach Jeff Roessner. "Minster is a good shooting team and when they were able to shoot the ball they hit them and I was impressed. What I was really pleased with tonight was that when things did not go well for us, which was a large part of the game, our kids did not lose focus and continued to play hard."
"That's what this game comes down to: handling the ball," said Minster coach Nann Stechschulte. "I am not going to take anything away from Fort Recovery because they do pressure the ball, but my starting point guard (Jenna Blackburn) is sitting on the bench and that makes a huge difference. We're going through growing pains right now and believe it or not, it was better than our last game.
"We turned the ball over 27 times tonight and we lose by just eight on the road. I don't believe in moral victories, but hopefully when we get everybody back healthy we can do some things," continued Stechschulte.
Fort Recovery used its perimeter defensive pressure to key a 12-3 run in the final 5:41 of the first half to take command of the game, 27-20. In a span of 3:12, the Indians turned four Minster turnovers into three-point field goals from Holly Stein and Vicki Roessner, a lay-in from Stein and a stickback basket from Tiffany Gaerke.
In the second half, Fort Recovery used a lay-in from Stein and a free throw from Holly Fortkamp to build a 10-point lead 30-20 with 5:49 left in the third period.
Minster got back in the game scoring the first five points of the final period to close to within 42-34 with 6:34 left. The Wildcats had five chances to cut into the deficit even more but missed a free throw and turned the ball over three times while holding Fort Recovery scoreless over the first 2:50 of the period.
Fort Recovery broke the ice in the fourth period as Abby Niekamp hit a free throw and Roessner converted a steal into a basket to rebuild the lead to 45-34 with 4:40 left.
After a pair of Quinter free throws made the score 45-36, Roessner made a beautiful pass under the basket to Joanna Snyder, who converted the basket and a free throw for a three-point play rebuilding the lead to 48-36.
Minster had one last run left in it as two Quinter free throws and a three-pointer from Danae Spieles pulled the Wildcats to within seven points at 48-41 with 3:03 left.
After a Stein basket for Fort Recovery, Minster got a basket from Spieles and two more Quinter free throws to pull to within five points at 50-45 with 2:03 left.
That was to be as close as the Wildcats were to get however as they did not score a point in the final 2:03.
Stein led the Indians with a game-high 20 points and she grabbed nine rebounds. Tiff Gaerke chipped in 12 points and 13 rebounds.
Quinter led Minster with 16 points, including a 12-of-13 performance at the free-throw line while Spieles added 13 points.
Both teams are back in action on Saturday as Minster plays host to Celina and Fort Recovery travels to Franklin-Monroe.