Saturday, January 27th, 2007
Cavs win thriller at the Palace
Coldwater holds off St. Henry in triple OT thriller
By Ryan Hines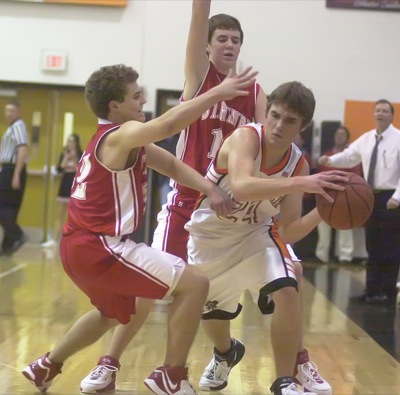 COLDWATER - The Palace was packed on Friday night and those in attendance were treated to an instant classic performed by Coldwater and St. Henry in a Midwest Athletic Conference rivalry matchup.
Coldwater led by as many as 10 points in the second half and seven points in the fourth quarter, but a furious St. Henry comeback ended up resulting in three overtimes before the Cavaliers finally polished off the Redskins, 81-75.
"Both teams played so hard for so long. ... It was just a great high school basketball game tonight," said a relieved Mike Kanney after watching his Cavaliers slip past St. Henry. "It was such a great game that you lose track of how many overtimes that it actually was. It was fun to coach and it was fun for the kids as well."
Joe Niekamp's Redskins may have come up short on the scoreboard, but it was the type of game where both teams exited the court feeling pretty good about themselves.
"This was just an unbelievable and incredible high school basketball game between two good teams tonight. It's hard to remember everything that happened tonight with all the overtimes because each team just kept stepping up and making big shot after big shot," lauded Niekamp. "I don't think that I've ever witnessed a game where both teams laid their hearts out on the line like both teams did tonight.
"That was high school basketball at its best and as exciting as it gets," continued Niekamp. "Unfortunately for us, we had chances to seal the deal and we weren't able to do that."
The Cavaliers (7-6, 3-2 MAC) snapped St. Henry's five-game winning streak and the Redskins now fall to 7-6 overall and 3-2 in the conference.
Both teams squandered multiple chances at pulling out the win before the Cavaliers finally cashed in.
Coldwater was ahead by seven points with five minutes left to play in regulation only to see St. Henry rally down the stretch with a chance to win in the final seconds. Mitch Niekamp made one-of-two free throws with 16 seconds left in regulation to tie the score and the missed second free throw was rebounded by St. Henry. The Redskins missed three close-range shots leaving the score tied forcing overtime.
St. Henry had another chance to win the game in the first overtime, grabbing a five-point lead at one-point before a Cavalier comeback. The Redskins' Tyler Post hit a three-pointer with 7.7 seconds left on the clock to give the Redskins a 62-59 lead, but Coldwater's Seth Kahle canned a trey on a beautifully-executed play to force the second overtime. Kahle rubbed off a screen and floated to the wing before launching the game-tying shot.
"I thought that we had him covered pretty well on the play, but it was just another case where a kid stepped up and hit a big shot," said Niekamp.
With the score tied 66-66, St. Henry turned the ball over with 3.6 seconds left on the clock and Coldwater's Ryan Geier missed a desperation three-pointer at the horn leading to the third and final overtime session.
Coldwater held the lead wire-to-wire in the final four-minute extra session holding St. Henry off with a 13-of-16 showing at the free-throw line. The Cavaliers were 28-of-40 from the free-throw line in the game.
"We were finally able to put the game away in the last overtime at the free-throw line," said Kanney. "Hitting our free throws was big for us."
Seth Kahle, who scored 16 points in the game, made five free throws in the final minute of play to help seal the win for Coldwater.
Geier led all scorers in the contest for Coldwater with 23 points while teammates Kurt Riethman and Cory Klenke also netted 11 points apiece.
Ryan Wehrkamp led the way for St. Henry with 21 points, Mitch Niekamp and Andy Puthoff contributed 12 points while Tyler Post hit for 11 markers.
Coldwater is back in action again tonight hosting Celina in a Mercer County rivalry showdown while St. Henry travels to take on Ansonia, also this evening.