Saturday, February 10th, 2007
Rangers clinch MAC championship
New Knoxville runs unbeaten record to 16-0
By Gary R. Rasberry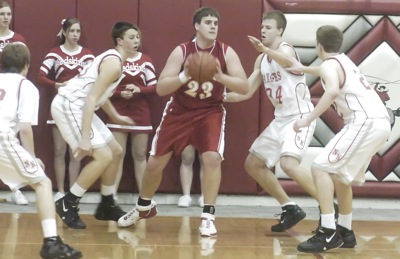 NEW KNOXVILLE - For New Knoxville to celebrate its first-ever outright Midwest Athletic Conference boys basketball title, the Rangers had to hope that St. Henry wasn't going to have one of those nights where everything that could go in the net went through.
Save for the play of Tyler Post, the Red Riot got their wish.
New Knoxville clinched sole possession of the MAC title by holding off St. Henry, 55-48, at Ranger Gymnasium on Friday night.
The win gives the Rangers their first MAC title since the 1996-97 season, ironically shared that year with St. Henry, and keeps the second-ranked team in Division IV perfect at 16-0 overall and 7-0 in the MAC. St. Henry, the only team coming into the night with two league losses and a shot to stay in the MAC title race, falls to 9-7 overall and 4-3 in the conference, eliminating the Redskins from title contention.
"It feels real good," said Rangers coach Dan Hegemier. "First outright MAC title in school history is something special, (especially) in a power conference like you are in the MAC with such tradition-rich schools. It's nice to put our name on one."
St. Henry coach Joe Niekamp was full of praise.
"You have to give New Knoxville a lot of credit," said Niekamp. "That's why they're the type of team they are and the record they have. They play great defense. ... They don't let you get very comfortable out there."
The contest was close through the first three quarters and was a four-point game with just under five minutes left, but New Knoxville hit free throws down the stretch and picked up the defense to keep St. Henry from getting good looks behind the three-point arc.
St. Henry stayed in the game for the most part thanks to the shooting of Post. The senior wing took all 13 of his field goal attempts behind the three-point line, making six with several close to NBA-range shots, to lead the Redskins with 20 points. Take away Post's shooting and St. Henry was just 8-of-33 from the field - and 3-of-18 from the three-point line.
"I think Post got tired a little bit," said Hegemier jokingly. "That young man really shot the ball well. We knew last weekend he had a great game against Minster (14 points). Doggone it! He caught it and shot it. He did a whale of a job."
New Knoxville changed things up in the second half, leaving its man-to-man defense and going to a 3-2, which allowed for some more defensive pressure on the perimeter.
"They were getting a little too much dribble-penetration. We kind of wanted to change it up a bit," said Hegemier. "... It was something I thought we'd try and it worked out."
The defensive change also kept the Redskins from getting inside often, something that Niekamp was hoping would spark the team.
"We need to be the team that can get a little more penetration," said Niekamp. "They were really able to cut that down."
The defense also forced some Redskin turnovers. After committing just four turnovers in the first half, St. Henry lost it five times in the third quarter - and another five in the fourth quarter. New Knoxville was able to convert either with field goals or at the foul line.
After St. Henry cut it to 47-43 on a Zack Thobe free throw with 4:53 to go but Ross Stienecker bumped the lead back up to six with a bunny inside with 4:11 to go.
Josh Niemeyer drove, got fouled and made the bucket with 3:13 to go and then made the free throw to push the Rangers' lead to 52-43.
St. Henry got to with six with Ryan Wehrkamp's three-pointer with 2:23 to go, but New Knoxville went into the slowdown mode the Redskins didn't have any answers down the stretch.
"That's what this game came down to, taking care of the basketball," said coach Niekamp. "I knew we didn't take care of the ball like we did in the first half. Part of it was we got behind by about 10 and tried to make a few too many things happen too quickly.
"I told the kids I don't fault their effort. It was a knockdown, drag-out affair. It was extremely physical and hard played on both sides. Our kids gave it everything they had."
New Knoxville had plenty of dominance inside from Stienecker as the 6-4 junior was 8-of-12 from the field and a perfect 8-of-8 from the foul line to finish with 24 points and 10 rebounds.
"I told him this was the type of game where you get down on the block and ask for the ball and demand the ball," said Hegemier. "We really tried to get it into him. He responded well."
Niemeyer added 13 for the Rangers while Caleb Allen scored nine. Thobe, Mitch Niekamp and Darren Siefring each added six for St. Henry.
The Redskins return to action tonight, hosting Western Buckeye League leader Van Wert.