Monday, February 26th, 2007
Grand Lake parents of adoptees unite
By Betty Lawrence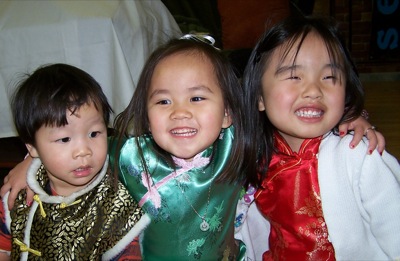 Ted and Alison Homan of rural Coldwater grew tired of making the long journey to Dayton to attend the Families with Children from China (FCC) chapter meetings, so they started their own local group.
The Homans adopted 14-month-old Audrey from China two years ago, and in December, they welcomed into their family 2-year-old Paul, also from China. The Homans have two older biological children, Andrew and Natalie.
Alison Homan spoke with Rosann Rable of Celina, who has adopted four children from Korea, about forming the group. Rosann and Tom Rable were receptive to the idea, and after a few phone calls and word of mouth, a new chapter was born - Families United Through International Adoption.
A crowd of 50 people from Mercer, Auglaize and Van Wert counties exchanged international adoption experiences at the group's first meeting on Feb. 17 at the Celina First Church of God.
A group photo of the 18 children adopted from South Korea, China, Guatemala, Russia and Vietnam was taken at the meeting. Also present were two families who are in the midst of filling out the mounds of paperwork necessary for adoption.
Although the children are from different countries, international adoption experiences have a lot of similarities, Alison Homan says.
"We were able to share our adoption stories and had a carry-in with mostly Asian food," she says. "The kids did crafts and seemed to have lots of fun too."
The Homans hope to schedule quarterly meetings.
The goal of the group is to give support to those who have completed their adoption and to help waiting families by answering as many questions as possible.
"It was nice to connect with other families who have been through the same ups and downs that are involved with international adoptions," she says. "International adoption is wonderful, but it can be kind of scary when you are just starting the paperwork because everything seems so overwhelming."
Adoption laws can change, and the meetings will allow those interested the opportunity to keep updated.
When the Homans adopted Audrey in 2005, it took more than a year to fill out the paperwork and the couple traveled more than 10,000 miles to China to get their daughter.
For little Paul, who is considered a special needs child because he was born missing his lower right arm, it took nine months after the paperwork was started and another trip to China.
In China, 95 percent of the children adopted are girls and the remaining 5 percent are special needs boys. The country began enforcing a one-child population control policy in 1979 that exists today, and baby girls often are given to orphanages with a couple hoping for a boy the next time.
According to Homan, adoption policies are changing in China as the country is making the criteria for adoption more stringent.