Monday, March 12th, 2007
Post, Redskins declaw Bearcats
By Ryan Hines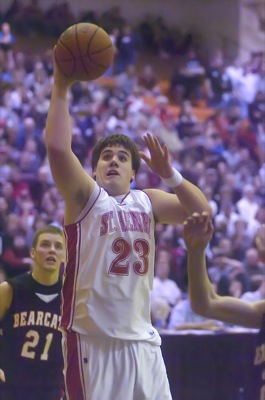 ADA - St. Henry's formula for success this season has been to play stingy defense and hit clutch three-pointers along the way.
It was that exact same formula that the Redskins rode to a Division III district championship on Saturday night at Ohio Northern University.
St. Henry hit 10 three-pointers and its defense held Spencerville to just 27-percent shooting in the second half on the way to a 69-58 Redskins victory over the Bearcats.
The Redskins (16-8) advance to the Bowling Green State University Regional on Wednesday night at approximately 8:15 p.m. to face Evergreen (17-6). Division III poll champion Liberty-Benton (24-0) and Columbus Africentric (13-9) square off in the first game at BGSU on Wednesday.
Spencerville had its own formula working throughout the first half as the Bearcats rode the play of guards Isaac Bowers and Logan Nourse to a 36-34 advantage at halftime. Bowers had 12 points and Nourse added nine markers for the Bearcats in the first two quarters of play on a combined 7-of-13 shooting performance from the floor.
Bowers and Nourse were rarely heard from again in the final two quarters due to St. Henry's defense. The Bearcats' high-scoring tandem combined for just seven points on just 2-of-13 shooting from the field.
"They went to a matchup zone defense in the second half and that's something that we really haven't seen them do this year," said Spencerville head coach Kevin Sensabaugh. "That took away Isaac's penetration. In the second half, we just couldn't make baskets. If we got a good look, we couldn't knock it down but that's a credit to St. Henry's defense because they limited us having many good looks."
Bowers found it tough to penetrate against the St. Henry zone defense.
"When I would bring the ball down the floor, they would have three guys at the top of the key and made it difficult to get into the lane with penetration and it was tough for us to find openings," said Bowers.
The defensive adjustment by St. Henry seemed to spark the offense as well with Tyler Post finding his long-distance touch in the third quarter.
A free throw by Spencerville's Adam Wolfe gave the Bearcats a 37-34 lead to start the second half but Post hit a trio of trifectas in the next two minutes of play leading to a 16-2 St. Henry run. Post hit five three-pointers in the game and finished with a game-high 20 points.
"We knew that he was very capable of doing that and it was a big concern of ours coming into the game," said Sensabaugh. "They're all capable of hitting the three and it's a tough team to defend because they spread you out and then they can take you off the dribble. If you help when they drive, people like Post can really hurt you. That's what we got caught doing in the third quarter and he made us pay."
The devastating 16-2 run by the Redskins turned a three-point deficit into a 50-39 advantage with 1:50 left in the third stanza.
"We felt that our 1-2-2 zone would be a good adjustment because we wanted to slow down Bowers (12 first-half points)," said Niekamp. "Tyler hit a couple of big shots after stops on the defensive end and we got off to a great start in the third quarter. Our guys know that Tyler is going to be spotting up and we did a good job of getting him the ball in rhythm. We came out of halftime refocused."
St. Henry pushed its lead to as many as 13 points in the second half before an atrocious performance at the charity stripe made the game appear closer than it actually was. The Redskins made just 3-of-10 from the free-throw line in the final two minutes of play, including two front ends of one-and-one opportunities.
That was the only negative on an otherwise strong overall performance by St. Henry as the Red and White shot 53 percent from the field while holding Spencerville to 43 percent (Bearcats shot 68 percent in first half).
Zack Thobe and Ryan Wehrkamp joined Post in double figures for St. Henry with 10 points apiece while Brent Prenger and Andy Puthoff added nine and eight points, respectively.
TICKETS - Tickets for reserved seats and general admission will be sold to season ticket holders (maximum of two reserved seats per person, one season ticket) tonight from 7 p.m. to 7:45 p.m. and to the general public from 7:45 p.m. to 8 p.m. Tickets will also be on sale at the high school office and Gels IGA on Tuesday and Wednesday until 1 p.m. All tickets are $6, tickets at the door will be $8.