Saturday, March 17th, 2007
New Knoxville ends up short in battle of unbeatens
By Ryan Hines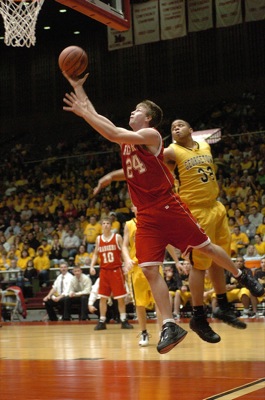 OXFORD - The two teams making up Friday's Division IV regional final, New Knoxville and Georgetown, were a combined 50-0 with aspirations of a trip to Columbus the clear goal for both squads.
In a game that went back-and-forth to the buzzer, Georgetown came away unscathed with a 60-57 win over New Knoxville at Millett Hall on the campus of Miami (Ohio) University.
The first loss of the season was a bitter pill to swallow for New Knoxville (25-1), the Division IV Associated Press state poll champions from this year, especially considering the Rangers held as high as a 10-point lead over Georgetown (26-0) at one point.
"I've been to state three times in my coaching career and you need a little luck to get there in any year and we just didn't get any luck tonight," said New Knoxville head coach Dan Hegemier, who guided Fort Loramie to state on three different occasions before taking over the Rangers' job. "This is a tough loss because we had a great season and I'm going to miss a special set of seniors that we have in that locker room."
While there were tears on New Knoxville's side, Georgetown was celebrating its first-ever trip to the state tournament, where it will face Berlin Hiland (22-4) on Friday at 2 p.m.
"It sure is nice to wear this around my neck," said Georgetown head coach Jerry Underwood, referring to the net he was wearing like a necklace. "You always dream of being able to reach this point, of just getting there to state, and now we're there. It's a dream and we're living it."
The Georgetown dream didn't look good early on as New Knoxville jumped on top 13-6 after the first quarter of play. The Rangers rode a 16-2 run from the 5:25 mark of the first quarter to the 7:14 point of the second quarter to take a 16-6 lead.
Georgetown trimmed the deficit to single digits in the second quarter and then took its first lead since early in the first quarter at the 3:14 mark of the third stanza.
The G-Men's advantage didn't last long in the third quarter as New Knoxville's Josh Niemeyer finally began to be aggressive on the offensive end of the floor. Niemeyer, with just two points in almost three quarters of play, scored seven points and Ross Stienecker added four points in the final 2:31 of the third stanza before Georgetown's Jay Chadwell hit a deep three to pull the G-Men to within four points at 44-40 entering the final eight minutes of play.
The New Knoxville lead was three points when Georgetown's Cory Kidwell canned a three-pointer to tie the score at 50-50 with just three minutes left on the clock.
The Rangers got the lead on two more occasions thanks to Niemeyer and Stienecker, but Georgetown had an answer for New Knoxville in each instance and retook the lead for good on a pair of Jay Chadwell free throws at the 1:38 mark.
Stienecker, who led all scorers in the game with 26 points, scored the next two points for New Knoxville with 30 seconds left in the game on a layup but it was a lack of execution down the stretch that cost New Knoxville in the clutch.
Down two points at 58-56 with 28 ticks left on the clock, Stienecker missed a layup for New Knoxville but the Rangers got the ball back when the Georgetown rebounder stepped on the inbounds line.
New Knoxville's second opportunity to tie the game slipped away when Caleb Allen's inbounds pass went right to Kidwell, who hit a pair of free throws with 18 seconds left in the game to give Georgetown a 60-56 advantage leading to the start of the G-Men celebration.
"We had a total lack of execution at times tonight and we didn't make shots either which hurt us," said Hegemier. "We never really got into a flow tonight on offense and we didn't limit their penetration on the defensive end."
Georgetown's dribble penetration led to some easy baskets and a 48-percent shooting effort against a normally stingy New Knoxville defense. The 60 points allowed by New Knoxville was the third-most of the season by an opponent (Spencerville scored 66 and Lima Shawnee scored 68).
It was a balanced scoring attack for Georgetown. Jay Chadwell scored a team-high 15 points and Jess Chadwell contributed 13 points to go along with a game-high 11 rebounds. Marc Gray, Isaiah Felder and Kidwell each added 10 points apiece to give the G-Men five players in double figures (only six players scored for Georgetown).
Niemeyer and Marcus Henschen joined Stienecker in double figures for New Knoxville with 11 points apiece.