Thursday, April 19th, 2007
St. Marys wins behind singles play
By Gary R. Rasberry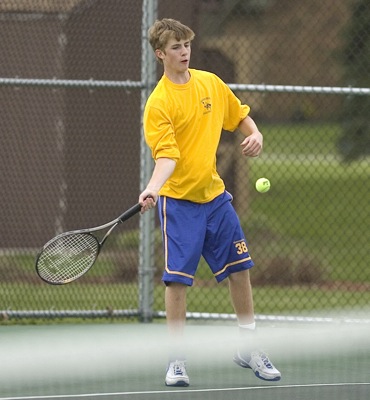 Wednesday's St. Marys-Celina tennis battle was split right down the line.
The NetDogs, looking to put together their best units in preparation for the Western Buckeye League tournament, won both doubles matches on the day.
But it was the Roughriders, with their experienced singles group, that secured the team their match win, taking all three singles in straight sets to post a 3-2 win at the Booster Club Courts in Celina.
The win puts St. Marys at 5-1 in the league while Celina evens up at 3-3.
Celina coach Jan Morrison moved veteran players Neil Hoyng and Ethan Westgerdes into doubles pairings with the thought that they can bring Celina success at the league tournament and during the postseason. Underclassmen Kyle Miller and Zach Darland took over the top two singles spots with first-year player Stu Amstutz playing third singles.
"That's our best shot at going somewhere in the WBL, is two strong doubles teams," said Morrison. "Those two will be together for sectional. I think they're a nice team."
The experience of the Roughriders at singles showed as the first and second singles matches showcased St. Marys losing just one game out of four sets.
Jonathan Brenneman put together a short match to beat Miller in matching 6-0 sets in first singles and then Jameel Brenneman, Jon's brother, had a 6-0 opening set against Darland before winning the second set by a 6-1 margin.
The third set matchup between Amstutz and Michael Schmitmeyer proved to be the best contested. Schmitmeyer won the first set 6-2, but Amstutz battled in the second set before falling to Schmitmeyer 6-4 ensuring the win for the Roughriders.
"Singles were pretty much in command all night," said St. Marys coach Brice Brenneman. "We've got some guys who've been around the block a few times."
Hoyng was matched with Alex Ball, who won the WBL second-doubles title last season with Cory Darland, in the first doubles bout against Zac Martin and Adam Kuffner. The Celina tandem had little trouble in downing the Roughrider duo, 6-0 and 6-3.
Westgerdes paired with Josh Ebbing in second doubles against Seth Hertenstein and Blaise Katter. Westgerdes and Ebbing also had an easy time in the first set with a 6-0 win, but Katter and Hertenstein battled back. Celina needed an extra point to come away with a 7-5 second-set victory to get the sweep in the two doubles matches.
"I've moved them around because I think we have two strong doubles teams out there," said Morrison.
"They kind of loaded up the doubles today," said coach Brenneman. "The second sets we played pretty good doubles against them. The first (sets) we kind of rolled over."
Both teams are back in action on Friday. Celina hosts WBL-power Elida while St. Marys plays host to Van Wert.