Thursday, May 3rd, 2007
New Bremen hands Parkway first MAC loss
By Mark Ruschau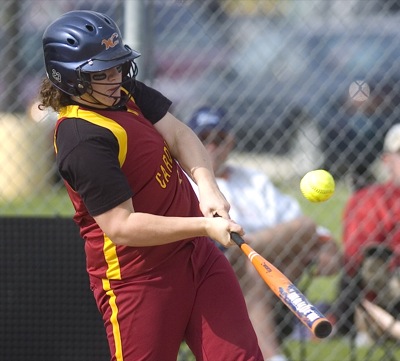 NEW BREMEN - The New Bremen Cardinal softball team put themselves right back in the thick of the Midwest Athletic Conference softball race as they defeated the Parkway Panthers, 4-1, Wednesday afternoon at New Bremen High School.
With the win, New Bremen improves to 4-1 in the conference and 11-5 overall while the loss drops Parkway to 4-1 in the MAC and 9-5 on the season.
The win by the Cardinals sets up a one-week, two-game chase for the title. New Bremen will travel to undefeated and league-leading Coldwater tonight and close out its conference schedule on Monday, hosting Minster. Parkway will play host to Fort Recovery tonight and will close out league play at Coldwater.
"This was a great win for us," said New Bremen coach Craig Griesdorn. "We talked about winning the MAC in the preseason because you have to play your best ball to win it. We knew that after we lost our first league game to St. Henry that we would have to win the rest of the games, so far so good. We still have two tough league games but tonight we can enjoy this one. But, tomorrow we come right back and play the frontrunner, Coldwater, so there's no rest in this league.
With its league title hopes on the line, New Bremen came out and scored a pair of runs in each of the first two innings.
In the first innings, Kim Thobe doubled to right-centerfield and scored the first run when Elly Cisco tripled to the base of the fence in straight away rightfield. Cisco scored one batter later on a single by Maria Staton.
The Cardinals took advantage of some defensive lapses by the Panthers to score twice in the second. With one out, number-nine hitter Michelle Griesdorn walked. Sara Rutschilling then laid down a bunt which was thrown away at first base by Parkway pitcher Chelsie O'Neill, with Griesdorn taking third on the play.
After, Rutschilling took second base on catchers indifference, Thobe hit a ground ball to the right side which was booted by Panther first baseman Danielle Schoenleben, allowing Griesdorn to score making it 3-0. After Cisco walked to load the bases, Staton came through again with a bloop single to right, scoring Rutschilling.
"We talked about coming out and scoring runs early in the game because in the games we have had success this season, we usually score runs early," said Griesdorn. "I think the difference in the game was our ability to bunch hits together and they were not. We were able to work the pitcher for a few walks and we were able to get a bunt down there in the second as well and score some runs because every run against Parkway is huge."
"When you're playing good teams and New Bremen is one of the better teams we have played this year, they came out crushing the ball and you have to give them credit and I am fine with that," said Parkway coach Mark Esselstein. "Chelsie O' Neill is not an overpowering pitcher and they are going to put the ball in play and when they hit the ball on the nose like they did, you give them credit.
"In the second inning we had a couple of errors and a couple of walks and you just cannot do that," continued Esselstein.
The first two innings were to be the extent of the offense for the rest of the game for New Bremen as it was limited to just two baserunners the rest of the game by O'Neill.
The runs scored by New Bremen were also enough for senior pitcher Maria Staton who struck out nine, but it was the Cardinals' defense behind her that was more than adequate playing errorless softball.
Parkway scored its only run of the game in the fourth on a single and stolen base by Schoenleben and an RBI single by Jan Boroff.
"We kept ourselves in the game defensively but we did not give ourselves enough chances to put pressure on them defensively," said Esselstein. "We had some good at bats but we just did not put enough together to get anything done. After the first inning we knew we would have to score at least three runs to win and we scored just one, we are just going to have to work on that."
"We knew that we would have to play solid defense tonight and we did," said Griesdorn. "They got a lead-off double in the second and we were able to get out of that with out them scoring and that was big because the game was still just 2-0 and then we come back and score two runs in the bottom of the inning and give ourselves some breathing room."