Saturday, May 5th, 2007
Murderer of elderly Loramie woman gets maximum sentence
By Margie Wuebker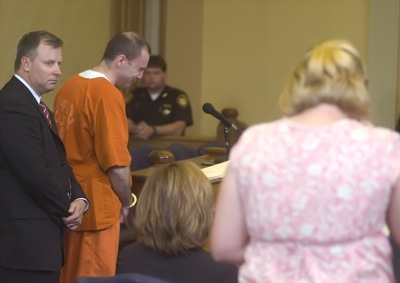 SIDNEY - Christopher Harris wept as he appeared in Shelby County Common Pleas Court on Friday afternoon for sentencing in connection with the kidnapping, rape and aggravated murder of an elderly Fort Loramie woman.
The 32-year-old Harris stood with public defender Tim Sell as Judge James Stevenson imposed maximum penalties - life imprisonment without parole for the murder of 84-year-old Victoria Eilerman and 10 years each for kidnapping and rape. Stevenson ordered the terms to be served consecutively as a means of punishing the offender and adequately protecting the public.
Unlike his aloof demeanor at an April 12 arraignment hearing, Harris struggled with emotion as he turned toward the packed gallery.
"I don't know who the family is," he said quickly scanning a sea of faces. "I don't know why I did what I did. If only I could take her place and take away all the pain I caused. I can't change what happened. I swear to God I wish I could."
Harris began to ramble, telling the court he had been through a lot and had killed "a kid" years ago. In 1989 at the age of 14, he confessed to holding the head of 4-year-old Russell "Rusty" Romine under the water of Tilberry Run Creek in Sidney. The youngster, who reportedly angered the teen by calling him names, died the following day, and Harris remained in the custody of the Ohio Department of Youth Services until his 21st birthday.
"You can't lock up people and not give them help," he sobbed as the judge listened. "I truly and honestly feel if I had got help, I would not be here today."
Given the senseless and gruesome nature of his latest crime, Shelby County Prosecutor Ralph Bauer requested maximum sentences including life in prison without parole. When arrested, Harris agreed to plead guilty as charged and reveal the location of Eilerman's body if Bauer agreed not to pursue the death penalty.
Phil Eilerman, one of the victim's seven children and the current mayor of Fort Loramie, told Harris the death penalty "is too good for you" in his comments to the court.
"The death penalty would have been merciful," he said in a voice choked with emotion.
Harris hung his head and cried as the son continued, "I want you to spend every single day of the rest of your life locked away in prison watching your back. I hope that each day is long, that you will have to be looking over your shoulder fearful and afraid that someone might torture you, might rape you, might kill you just as you did my mother."
Beth Schulze shared memories of Victoria Eilerman's homemade cookies and the time they spent working on a baby quilt that remains unfinished. She lamented her firstborn child will never have an opportunity to know the petite woman with a ready smile and a genuine concern for others.
"Forgiveness is what my grandmother would have given you," she told Harris. "I'm not sure that I can forgive you."
Victim's advocate Kathy Lindsay read four letters - one from a daughter-in-law and three from grandchildren. One of the writers told of the "horrific" loss the family endured in the wake of the April 5 crime and how they drove through the countryside looking for black cars like the one spotted in the area earlier that day.
The letter ended with "May God have mercy on your soul."
Another writer described how difficult it was dealing with a closed casket, saying "We were unable to see her one last time, to touch her hand or give her a last kiss."
Stevenson described the crime, which began as a burglary at the Eilerman home and escalated into something far worse. Harris placed Eilerman in his car trunk after striking her in the side of the head, drove to his Sidney home where the rape occurred, placed her back in the trunk and drove to a wooded area off Lochard Road where the murder occurred with blows from a hammer.
"This did not happen in a frenzy," the judge said. "At any stage along the way, you could have stopped and said enough."
Security was tight in the courtroom and uniformed officers quickly escorted Harris to a waiting van for transport back to the Shelby County Jail. As in previous appearances, no one but family members left until the vehicle left the court square.
Family remained in an anteroom but Bauer addressed newspaper and television media, calling the maximum and consecutive sentences "the best possible outcome for the county, the Eilerman family and everyone in the community."
The prosecutor knew Harris might make statements in court, although he called those Harris made in court totally self-serving and a means of placing blame on society rather than himself.
"Christopher Harris could have stopped at any point April 5," Bauer said. "He had one intention, one intention only and he did it."