Tuesday, May 8th, 2007
Man accused of $25,000 damage to Fort school
By Margie Wuebker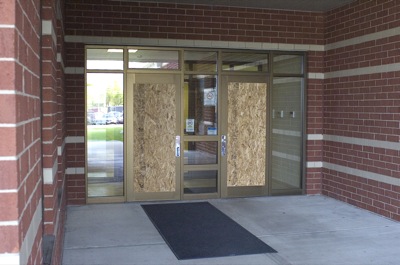 Felony charges of breaking and entering, vandalism and making a false alarm have been filed against a St. Henry man who caused at least $25,000 in damage at Fort Recovery Middle School during the weekend.
Travis Buehler, 18, 4314 Lange Road, made an initial appearance in Celina Municipal Court on Monday afternoon but said little during the proceeding. Judge James Scheer set bond at $300,000 as requested by Mercer County Prosecutor Andy Hinders. A preliminary hearing Thursday morning will determine if there is sufficient cause to bind the case over for consideration by a Mercer County grand jury.
Scheer explained municipal court is merely the first stop and, given the seriousness of the charges, the matter will be transferred to Mercer County Common Pleas Court for disposition.
Fort Recovery Police Chief Jared Laux responded to the school at 865 Sharpsburg Road shortly before 12:30 a.m. Sunday in response to a fire alarm. After spotting numerous broken windows, he called for backup with St. Henry Police, the Mercer County Sheriff's Office and Southwest Mercer Fire Department responding.
Buehler, reportedly bleeding from cuts to his arms and chest, offered no resistance after being apprehended on a sidewalk near the building.
He allegedly entered the building after smashing a door possibly with a manhole cover and then traveled along the inside corridor known as Main Street leaving glass from interior and exterior windows in his wake.
"There is damage to 30 different windows in the building," middle school Principal Ted Shuttleworth told The Daily Standard. "There is also damage to display cases as well as the trophies and plaques inside."
Buehler also targeted the middle school office, leaving a path of destruction including damage to a computer, fax machine and printer. He apparently left computers elsewhere in the building untouched.
"We have no windows in the library at this point," Shuttleworth said, since all have been broken. "And you can enter the office by walking through empty windows."
He believes a John Deere pedal tractor and wagon plucked from a Charlotte's Web display in the library was used to inflict display case damage. Laux agreed that was indeed a likely scenario and that at some point the intruder pulled a fire alarm.
Fifty volunteers, including school employees, local firefighters and parents, came to the school around 8 a.m. Sunday and spent four hours cleaning up a virtual sea of glass. They even washed down walls to remove tiny shards in preparation for a 3 p.m. choir concert maintaining "The show must go on."
Nine sheets of plywood now cover missing exterior windows as the school awaits replacement work that could take contractors several weeks to complete.
Laux said a preliminary investigation indicates Buehler apparently acted alone with alcohol being a factor in the vandalism spree.
Buehler, who remains incarcerated at the Mercer County Jail following emergency room treatment at Mercer County Community Hospital in Coldwater, faces up to 18 months in prison and a $5,000 fine if convicted of vandalism, a fourth-degree felony due to extensive damage described as more than $5,000 but less than $100,000. The two fifth-degree felony charges - breaking and entering and making a false alarm - could each add another 12 months behind bars and a $2,500 fine.