Saturday, June 2nd, 2007
Family business comes to a demise
By Margie Wuebker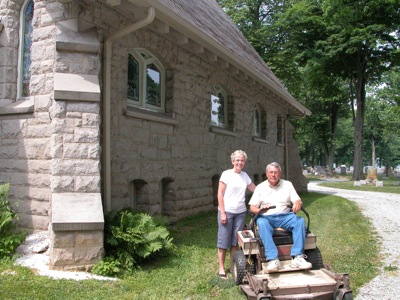 ST. MARYS - Terry Finke looks across rows of flower-decked gravesites at Elm Grove Cemetery and neighboring Gethsemane Cemetery, separated by a ribbon of asphalt called Greenville Road.
Death has been part of life for the cemetery superintendent and his forefathers, but the 118-year family tradition comes to an end Dec. 31.
"This is all I've known," he says taking in the neatly manicured lawns and peaceful surroundings. "I spent most of my life here, but there comes a time when you need to slow down."
Finke announced his intention to retire earlier this year at the annual Elm Grove Cemetery Association meeting, giving trustees nine months to find a replacement and to decide about buying the adjacent St. Marys Marble and Granite Co.
John F. Finke became the first family member to serve as sexton or superintendent from 1889 to 1935. His son, Noah Finke, took over from 1936 to 1963 and established the monument company before passing on the duties to Clifford Finke for an 18-year span ending in 1981.
"I went to work as Dad's assistant in 1968 after completing military duty in Vietnam," Terry Finke says. "And I became the fourth generation superintendent upon his retirement."
He and his wife Joyce moved to the imposing two-story home on the grounds in 1981, when their three boys were in elementary school. It quickly became a popular sleepover destination.
"Kids often spent the night," she says. "The cemetery - not our hospitality - was the big attraction."
The couple also recall an apparently timid baby sitter who took no chances of having ghosts drop in unexpectedly.
"The house was lit up brighter than a Christmas tree," Terry Finke says with a chuckle. "Not one room was dark."
While some folks believe ghosts roam cemeteries at night, the Finkes point out neither they nor previous superintendents have witnessed such activity or heard unexplained noises coming from the plots out back.
Much has changed over the years in the cemetery business. Records are now stored on the computer, although the Finkes occasionally bring out two ledgers containing old information.
Elm Grove Cemetery initially started out as a private enterprise that went public in 1864 when local residents wanted a place to bury fallen Civil War soldiers. The newer Gethsemane Cemetery is owned by Holy Rosary Catholic Church.
People in bygone days often purchased 20 lots at a time so family members could rest together throughout eternity. Other couples favored pairs of plots - one near the wife's parents; the other close to the husband's - with whoever died first being the determining placement factor. Nowadays, 60 percent purchase lots as well as monuments ahead of time freeing their children of such decisions.
Graves were dug with shovel and pick prior to the purchase of a backhoe in 1968. Two part-time employees now assist with mowing and trimming a combined 86 acres.
It is not unusual to have four or five funerals in the course of one week and nothing the next. The Finkes remember one particularly hectic day when two funeral processions converged on Elm Grove from different directions.
"We had to ask who was in each hearse to make sure it went to the right location," Terry Finke says. "The graves were 5 feet apart with back-to-back tents."
He maintains dealing with death and preparing for burials is especially difficult when children are involved or he knows the person. Approaching 60, he laments having served relatives, friends, high school classmates and even fellow Kiwanis Club members.
The Finkes are preparing to move from the superintendent's house to a new home in Celina. They will miss the familiar surroundings, but not visitors knocking on the door early Sunday morning for assistance in locating a loved one's grave.
"I gave the boys the option of taking over but they have careers of their own," he says. "Greg is a school principal, Matt is a chiropractor and Eric is a teacher. So one tradition comes to an end and another is about to begin. That's life even in the cemetery business."