Friday, July 13th, 2007
New Bremen strikes early and often
By Gary R. Rasberry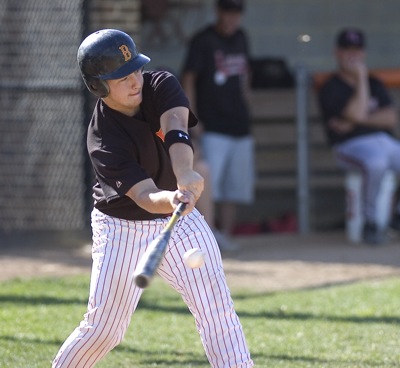 COLDWATER - New Bremen plated five runs in the top of the first, more than enough to stay in the winner's bracket of the 2007 ACME District Tournament with an 18-3 win in five innings over Fort Loramie at Veterans Field in Coldwater.
The Cardinals (17-6) now face Van Wert on Saturday at 1 p.m. in the winner's bracket final. The Redskins (8-14) return to Coldwater tonight to play Minster in an elimination game at 8:15 p.m.
Things got started in a hurry for New Bremen. Corey Jutte led off by getting walked before Anthony Moeder stepped up and took Jacob Mauer's 0-1 offering over the rightfield fence to make it a 2-0 game. The Cardinals chased Mauer after just four batters without recording an out. New Bremen sent 10 men to the plate in the inning, with Matt McCollum, Brad Wendel and Jared Cox scoring in the inning to make it 5-0.
"It just kind of spiraled," said New Bremen coach Gregg McCollum. "Everyone joined in (New Bremen had 11 hits in the game).
"I thought it was real important to get out to a big start. It just kind of snowballed. We just kept hitting after that. That was our goal, to get out to a quick start."
Four more runs came in the second as nine Cardinals went to the plate. Wendel brought in one run with a standup triple with Corey Barlage driving in a run with a fielder's choice and Derrick Bruggeman driving in one with a single off reliever Andy Long.
Meanwhile, the Cardinals' pitching was pristine. Wendel, who with Moeder are the aces of the staff, was needed for just two innings as he scattered two hits on 20 pitches before getting the rest of the night off.
"That makes him available for the rest of the games," said coach McCollum.
Barlage came on in the third and allowed just four hits and three runs the rest of the game. Barlage, like Wendel, did not walk a batter.
New Bremen triggered the run rule in the top of the fourth at 12-1, then got plenty of insurance in the fifth, sending 10 men to the plate, with a number of pinch-hitters, and bringing in six runs. Hank Zwiep doubled in two runs and McCollum later added a two-run double to conclude the scoring.
Tonight's first elimination game will be a battle of Mercer County teams as Coldwater faces Fort Recovery at 6 p.m.