Monday, October 1st, 2007
Celina tennis captures WBL championship
By Gary R. Rasberry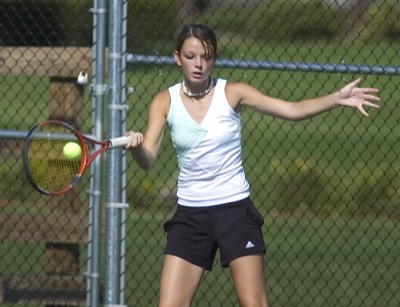 Going into Saturday, the Celina girls tennis team was in perfect position to capture their first Western Buckeye League title since 2002.
At the end of the day, the NetDogs had a bullseye.
Celina sent four of its five groups into the championship match, winning one title and adding three runners-up, to win the overall title after going 9-0 in the regular season. Celina finished with 19 total points, edging Shawnee with 18.
"That's more than I could have asked for from the girls," said Celina coach Jan Morrison via telephone after the tournament wrapped up at the Collett Street Courts in Lima on Saturday. "In the beginning, I knew they were a good team. They've become a pretty great team. ... All year they were steady. They love to play tennis."
The Indians won the tournament with 32 points and Celina was second with 28 points, just enough to hold off Shawnee in the overall points race for the league title.
The lone title went to the second-doubles team of Sara Dorsten and Rachel Smith. The pair entered Saturday at 24-0 and made it 25-0 with a 6-1, 6-1 win over Kenton's Allison Beverly and Amber Paul. In the title match, Smith and Dorsten downed Shawnee's Alyssa Weaver and Kristen Rhodes with another straight set 6-1 win to bring home the title.
The Celina first doubles team of Jess Wills and Kinzie Gardner also entered Saturday 24-0 and moved to the finals with a 6-1, 6-2 win over Kenton's Megan Root and Shannon Johnson. In the finals, though, Elida's Amy Sarno and Jessica Stambaugh won 7-6 (7-4) and 4-6 to give the Celina tandem their first loss.
In singles, Kelly Casad cruised to the finals of first singles, beating Elida's Anna Adkins 6-1, 6-0 to get a rematch against top-seeded Stacy Moon of Shawnee. Moon got the 6-0, 6-1 win to capture the title.
Amber Jaeger made the finals of third singles by beating St. Marys' Lauren Miller 6-2, 6-1 to face Vidhi Madan of Shawnee. Madan got the 6-2, 6-0 win.
Erin Brooks lost to D'Atra Savage of Elida 1-6, 6-2 and 3-6 in the second singles semifinals, sending Brooks to the consolation match. Brooks finished fourth overall after losing 6-3, 7-5 to St. Marys' Kelly Fritz.
"I'm proud of the girls," said Morrison, who earns the WBL Girls Tennis Coach of the Year award in guiding Celina to the title. "I have to keep it in perspective. They've been winning so easily. It looks like the pressure was on them. When you're number one and everyone has nothing to lose. I felt they were expecting to win today. It's hard to beat people twice."
The Roughriders, who finished fourth overall in the WBL, added another consolation win as Megan Dominik beat Anna Adkins 7-5 and 6-2 in the first-singles consolation. Lauren Miller lost in the third-singles consolation, falling 6-4, 7-6 (7-2) and 7-5.
Sectional play in tennis begins this week as Celina travels to the King Horn Center at Ohio Northern University for Division I play starting on Thursday. St. Marys will also head to ONU for Division II play starting Wednesday. Semifinal and final play will take place for both divisions on Saturday.