Saturday, November 3rd, 2007
Flyers open playoffs with a 37-0 victory
By Randy Bruns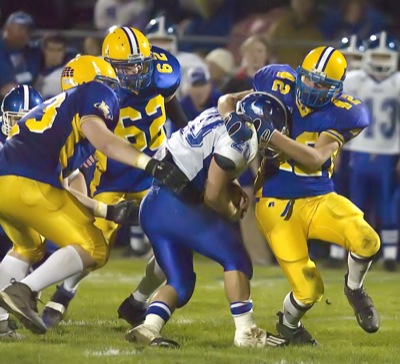 MARIA STEIN - The autumn night was crisp, and though the action on the field wasn't, the Marion Local Flyers played well enough Friday night to garner a 37-0 first-round playoff victory over the Miami East Vikings.
The win was the Flyers' 23rd straight and it kept their season record perfect at 11-0, while the Vikings end the year at 8-3 after the first playoff appearance in school history.
Marion Local will play in the regional semifinals next week against Cincinnati Deer Park, which defeated Cincinnati Hills Christian Academy 41-14 on Friday. The exact specifics on the date, time, and location will be ironed out this weekend, as the Marion volleyball team would play next Friday night if it can win in today's regional final match. There is a strong possibility that the football game could be moved to Saturday afternoon if necessary.
All year long, the Flyers have made a habit of burying teams in the first half, but they couldn't quite get that done in this one, as penalties and a stingy Viking defense threw up roadblocks.
Early on, though, it looked like the Flyers would put the outcome of this contest out of reach in a hurry.
Ben Schaefer started Marion's second possession with a 17-yard scamper, and on the next play, Chris Stucke hit Marcus Moeller on an out route for a 23-yard touchdown.
On the ensuing East possession, Stucke stepped in front of a wobbly third-down pass and took it to the house to give the hosts a quick 14-0 advantage.
Dan Fortkamp added to the Flyer lead with a 28-yard field goal early in the second, but things got a bit sloppy after that as the yellow flags started flying.
Stucke got hot late in the half, though, as he completed four passes in the two-minute offense, with the last going to Alex Moeller for a 14-yard scoring strike.
More penalties and a lost fumble marred most of the third quarter, but Marion finally put things on ice with consecutive touchdowns that made the final score 37-0.
Ben Smith capped off a nice running drive with an eight-yard cutback for a touchdown on the last play in the third quarter, and Stucke hit Jason Wolters down the sideline for a 17-yard scoring strike midway through the third.
"We just couldn't get into any kind of offensive rhythm tonight," said Marion coach Tim Goodwin. "Our game is to get the defense on their heels and just keep going. When we get them on their heels we get the play out and just run it. We could just never do that tonight."
Even though the Flyers offense wasn't running on all cylinders, the defense kept this one from ever getting close. Miami East came into the game boasting a potent rushing attack, but the aggressive Flyer defense put the kibosh on any idea of moving the ball on the ground.
Sam Smallwood, the Vikings' top running back who came in averaging over 140 yards per game, was held to just 23 yards on 22 carries, and East tallied just 91 total rushing yards on 41 attempts.
"They're as good as advertised," said East coach Max Current. "We couldn't get anything going on offense, and that put our defense in a predicament with field position. We felt like they were going to load up and take Sammy (Smallwood) out of the game, and that's what they pretty much did. We came in here doing the things that got us here. We didn't want to try all this crazy stuff to confuse Marion Local, because it would have confused us as well with only a few days to prepare."
Though Goodwin could do without the sloppiness, he still thought his team's overall effort was up to par.
"I thought we played hard," said Goodwin. "We made a few mistakes here and there, but it was a good start. We had a goal that we wanted to be more physical on offense than what we've been the last two or three weeks, and I think we did that."