Monday, November 5th, 2007
Versailles pulls off upset for state title
By Bruce Monnin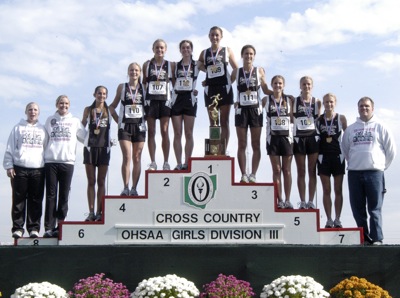 COLUMBUS - It seems fitting that when the state cross country championships are held at a horse racing track, the final standings should come right down to the wire.
In one of the closest finishes you will ever see, the Versailles Lady Tigers captured an upset victory by a single point over Gates Mills Gilmour Academy and just five points over third-place Minster.
Coming in to the meet, Attica Seneca East was the favorite thanks to its convincing win over Minster, Fort Loramie and Versailles at last week's regional meet. But when the Seneca East runner who was third on her team at regionals failed to finish the race, suddenly no one knew who the winner was going to be. It took several minutes until the results were posted and Versailles found out they had won.
Versailles became the first team in recent memory - possibly the first ever - to win the state championship after finishing in fourth place in their regional meet.
"We were happy just to be here (after finishing fourth place at regionals), I think," claimed Versailles coach Mark Pleiman.
When asked about his feeling when he received the word of the team's victory, he responded, "Disbelief. I had us about third or fourth in my brain. I had a couple of coaches come up and congratulate me and I asked them why. When they told me we were first, I thought it was a joke, then I fell to my knees in disbelief. Katie Mestemaker looked at me, and I held up the number one finger, and she went nuts."
Katie's version is slightly different.
"I was walking back and all of a sudden I heard a big scream. I turned around and coach is running for me with his arms wide open. When he said we got first, I was in shock. I didn't believe it at first. It was the best feeling ever."
With the margin of victory only one point, every single position in the standings was important. Mary Prakel led the way for the Tigers by finishing eighth overall, with a time 40 seconds better than her 10th-place finish at regionals and almost 20 seconds better than her time at state last season. Perhaps most importantly, she finished just three seconds ahead of a runner from Gilmour Academy.
The rest of the Versailles' squad seemed to mirror Prakel's efforts, posting personal records of their own and passing runners near the finish to improve their position in the standings.
Taylor Huffman, the second Tiger across the line, finished just one second ahead of a Minster runner and four seconds ahead of a Gilmour runner.
"Normally I am not a sprinter at the end. I just let girls pass me and I give up," said Huffman, who finished 44th. "But today, I saw this Minster girl in front of me and thought that I had to do this for the team, so I went and I did it. I was so proud of everyone. Everybody got their PR and I think everyone put forth the effort it takes to win. We did awesome."
Senior Katie Mestemaker finished third for Versailles with a time 43 seconds faster than her performance at state last year. Such an improvement is unusual for a senior girl, but Katie has two theories about her improvement.
"I never used to eat fruits and vegetables, but this year I started eating healthy, so that might have helped. Also, we had a lot more depth last year, so I thought if something happens I have someone behind me. But this year everyone started getting hurt, so I thought I had to do this for the team," explained Mestemaker, who finished 51st.
Coach Pleiman had high hopes coming into the season, but all did not go smooth.
"We knew that we had a good team coming in to the season, it was just a matter of how good. We've had some injuries. We had Kristen Schulte running with a stress fracture and Mindy Henry has had some issues with her foot, so we've been trying to do a combination of resting the girls and peaking at the right time."
"The girls did a nice job of believing in themselves and their team," summarized Pleiman. "We talked before the race that this is not an individual sport. If you get tired, you keep going for everybody else. It is a lot easier to run for them than it is for yourself."
The Minster girls had another successful state meet, as the Wildcats finished among the top three in the standings for the ninth year in a row. After fighting through the flu last week at regionals, they were primed to show improvement at the state meet.
"Last week we had the flu going around our whole team," admitted senior Katie Dahlinghaus, who finished 82nd. "So we definitely had a little more motivation going in to this week."
Minster coach Jessie Magato was as in the dark as everyone else regarding who had won the championship, but she knew her team had done well.
"Once they finished, I didn't know where the results were at. I figured anywhere between one and five," stated Magato. "When they finished I was proud of them. We knew they had to focus on the last mile, and they were fighting really hard."
Though finishing in third place, knowing how close they were to winning a state championship disheartened the Lady Wildcats.
"This season was a little frustrating because Bernadette (Burke) was out and Emily (Freytag) was out, so we had to overcome a lot of setbacks," confessed Dahlinghaus. "Really, we should be a lot happier with how we finished."
One other Midwest Athletic Conference runner participated, as Erin Calvelage from Delphos St. John's finished in 50th place in the overall standings.