Saturday, November 24th, 2007
St. Henry retires Hartings' #74 jersey
By Robb Hemmelgarn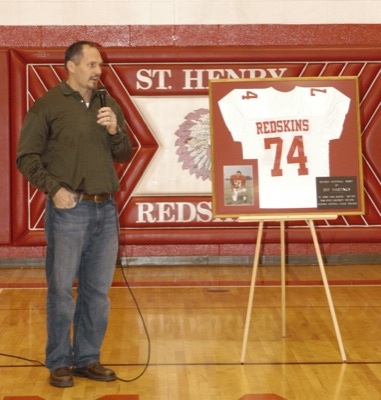 Jeff Hartings has graced some of football's biggest stages during his illustrious career, but you will have to excuse him if he came across a little nervous during his high school football jersey retirement ceremony last night in St. Henry.
The soft-spoken, muscular, offensive lineman has collected a lot of honors over the past two decades, but he has routinely enjoyed placing the attention on anything but himself.
Most folks could talk for hours to Hartings about his All-Ohio, All-American, and All-Pro status, but he will quickly twist the subject to more insightful aspects of those honors.
As expected, he shared an equally humbled perspective about his old number 74 being hung in his honor this weekend.
"I guess you could say I have a little anxiety about the ceremony. From the time I was in high school football, all the way through the NFL, we are embedded with the team concept. To get an individual honor such as this makes me a little bit nervous, but I am still honored, and it will be an outstanding opportunity to thank my family, the fans, my former coaches, and God for everything that I have been blessed with," Hartings said. "I believe having your jersey retired is one of the biggest honors you can receive. I just want everyone to know how much their support through the years has meant to me and I hope they realize that our area is a very special place."
Hartings' dream of charging onto the football field in front of his hometown began at an early age.
His family farm was within shouting distance of the football field, and with two older brothers having played for former St. Henry head coach Tim Boeckman, it was only a matter of time before it was Jeff's turn under the Friday night lights.
Twenty years ago this fall, Jeff first ran onto that field and within years, his resume was sprinkled with All-MAC, All-District and All-State honors. To him though, none of that matched what he and 10 other seniors accomplished their senior year.
"Heading into the 1990 season, we definitely realized that we had the talent to compete, but we had never been to the state championship before, so we had to have the faith in ourselves to make it that far," said Hartings. "Being a part of St. Henry's first football state title team is something I am honored to have been a part of, especially the way we came back to win in the final game. I feel that it really helped set the tone for a lot of St. Henry's later success."
After graduation, Jeff packed his bags and headed east toward "Happy Valley", where for the next five years he would don the signature white helmets of the Penn State Nittany Lions. While at Penn State he earned All-American honors twice, and as a junior, he helped pave the way for Ki-Jana Carter and led the Lions to an 11-0 overall mark and number-two ranking in the country.
More esteemed recognition, but Jeff quickly pointed out how his individual success was fueled once again by a special coach.
"I have been blessed to have played for a lot of very successful coaches in Tim Boeckman, Joe Paterno, and Bill Cowher. Their styles may have differed in some ways, but they had a lot in common. Coach Boeckman remained a consistent figure in the St. Henry program for a very long time, and he emphasized integrity, hard work, and a need to respect the game. Coach Paterno and Cowher had the same approach and expected a lot of the same things from their players."
The 23rd overall pick in 1996 NFL draft, Jeff went to the Detroit Lions where he remained for five seasons before being picked up by the Pittsburgh Steelers prior to the 2001 season.
Jeff immediately realized Pittsburgh was a special place and it didn't take long before he added to that lore.
Hartings retired from the Steelers earlier this year after 10 years in the professional sport.
Once again, Jeff was bestowed with All-Pro status and a Super Bowl ring through his professional career, but that was only a springboard to what he is doing now - something very close to his heart.
"Growing up in Mercer County, one thing that we learn from a very young age is work ethic - and that is obvious with all of the success that our local sports teams have year in and year out. This is something I found that is important to take with you in life. The last year has been very rewarding for me. It was my first year out of football for a very long time and it has given me the opportunity to spend more time with my family and work on my calling. Returning to Pittsburgh and ministering to inner-city kids is something I feel I could do for the rest of my life. It makes me really appreciate where I grew up and I hope I can bring a piece of that Mercer County living into the inner city."
The past two decades for Hartings have been fulfilling in nearly every aspect. He has been a champion at each level he has played, while also earning the highest individual accolades and learning from the best teachers of the game. It was an adventurous road, but one that has finally, and quite literally, come full circle.