Monday, November 26th, 2007
Celina golfing buddies beat the odds many times over
Four men, 73 to 85, each have made holes-in-one; accomplished other remarkable feats
By Pat Royse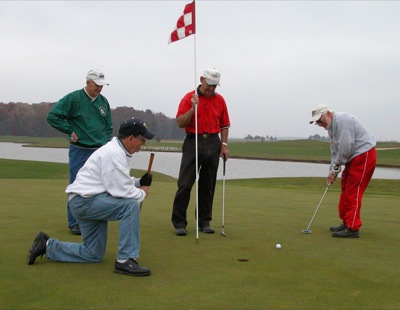 Celina resident Russ Hagar made a hole-in-one while golfing with his buddies at the Fox's Den Golf Course recently and was excited about it. Wikipedia, the online encyclopedia, lists the odds of an amateur doing that at 12,700 to one.
The 74-year-old Hagar, a U.S. Marine Corps vet who served in the Korean Conflict, wasn't particularly aware or paying attention to those odds. He just was glad he finally matched the golfing feat already accomplished by the rest of his regular golfing foursome of retirees, ages 73 to 85 years old.
Wikipedia hasn't yet calculated the stats on that probability.
Hagar, who retired as superintendent for the Celina Water Department, had already beaten the odds on a stroke he suffered four years ago. He said he got to the hospital in the time frame that allowed doctors to prevent major damage. He knows he was lucky.
Also, beating the hole-in-one odds is Hagar's golfing buddy, Bud Gray, 85, of Celina. Gray is dubbed the true athlete of the group by his friends. He made his hole-in-one at The Woods golf course in Van Wert four or five years ago.
Gray also holds a U.S. title for bowling the highest number of 300 games in an 800-series for his age. He took that title at Celina's Plaza Bowling Lanes in 2005 and still averages over 200 per game, his friends report. (They bowl together from time to time, as well as golf.)
A World War II Army veteran, Gray retired from the Mersman Furniture Company in Celina. He says he has never been to a doctor and still has no arthritis. He finds time to volunteer as sexton for the St. Mary's Catholic Cemetery, as well. He also volunteered the two Methodists in the group, Hagar and Bill Dawson, 73, to help him out.
The three do maintenance at the cemetery - cut grass, guide traffic and pull the top sod off gravesites before burial and replace it afterward.
"We just do what Bud tells us," Dawson said. "He's the boss."
"They're pretty good workers," Gray said of his two helpers.
Does it matter that the two helpers are not Catholic? Not a bit.
"We're all going to the same place anyway," Dawson retorted.
Dawson, unlike the other members of the group, is not native to the area. He was born in Chicago and worked some in West Virginia. He was a physical education teacher for 34 years and retired as principal of the former Franklin Elementary School in Montezuma.
A U.S. Air Force veteran of the Korean Conflict, Dawson made his hole-in-one a few decades ago at Northmoor Golf Course, he said.
Dawson, like his fellow golfer and friend, has experienced serious health problems, too. He was diagnosed with heart trouble about five years ago and was told by the doctor he shouldn't play golf or ride his bicycle, among other activities that he loves. When asked about his response to the doctor's advice, Dawson said, "I never went back."
Dawson did change his bike. He now rides a motorcycle and finds plenty of time to golf, bowl, help at the cemetery and volunteer for the church's Appalachian Service Project, which fixes up homes in the Appalachian area.
Ralph Luth, 83, was born on a farm in Mercer County and is a U. S. Navy veteran who served in World War II. He retired from Celina Group where he began in 1960 as a computer programer. At the time, he said, computers were fairly big pieces of equipment and were kept in air-conditioned rooms.
Luth made his hole-in-one at the Mercer County Elks Club a while back. He loves the game and plays, not only with this group, but with his wife, Katherine, a couple times a week in good weather. He likes to travel a bit and plans to keep playing the game.
Because the four golfers served in four different branches of the military, Hagar has threatened to buy them all a shirt displaying the branch they served in and take their photo, just for the fun of it.
What is sure is that none of the friends plans to settle into a rocking chair anytime soon.
No duffers, these.