Wednesday, November 28th, 2007
Parkway hits first 11 shots from the field in blowout
By Gary R. Rasberry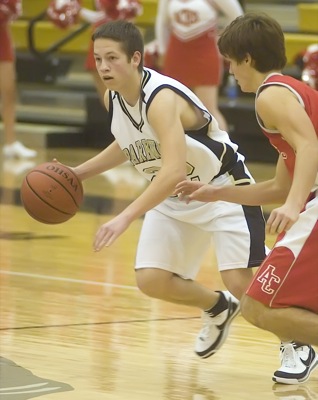 ROCKFORD - Parkway made its first 11 shots of the game and finished with a nearly 60-percent shooting night in beating interstate rival Adams Central, 78-45, on Tuesday at Panther Gymnasium.
The Panthers, who scored 80 in their first game, improve to 2-0 as the Jets fall to 0-2.
Parkway found the hot hand early, taking the lead for good with 4:53 left in the first quarter. Jordan Thompson hit all five of his field-goal tries in the first quarter with Josh Fisher a perfect 3-for-3. The Panthers took a 22-11 first-quarter lead on 11-of-11 shooting.
"That was a pretty good start for us," said Parkway coach Doug Hughes.
Eventually, Parkway would miss, but the Panthers still shot a healthy 65 percent (17-of-26) in the first half to lead 36-21 at the half.
If there was anything Hughes could be unhappy with, it was the rebounding advantage the Jets had against Parkway. In the first half, Adams Central held a 14-12 board advantage with seven coming on the offensive end. Parkway took over in outboarding the Jets 24-14 in the second half.
"I wasn't real happy with our aggressiveness, our desire on the boards," said Hughes. "That was something that really changed in the second half. We really got after them at halftime. We have to do much better being aggressive and rebounding the ball."
Parkway also did the job with defensive pressure, forcing the Jets into 20 turnovers in the game, as Fisher got several steals and turned them into easy buckets.
"Craig Bills did a real nice job in that area, as well as Josh and Marcus Meyer," said Hughes. "I thought they did a real nice job."
The Panthers' Big Three - Thompson, Fisher and Derik Snyder - led the way as all three had 19 points. Thompson was 8-of-10 from the field and also pulled down 12 rebounds. Fisher was 8-of-12 from the floor and 3-of-6 from behind the three-point line. Snyder was 9-of-16 to get his 19. Levon Archer came off the bench to score nine points.
The Jets were led by Tyler Roach's 11 points.
Parkway is back in action on Friday, hosting Van Wert for a 6 p.m. contest.