Monday, December 31st, 2007
Chugging through Minster's past
By Margie Wuebker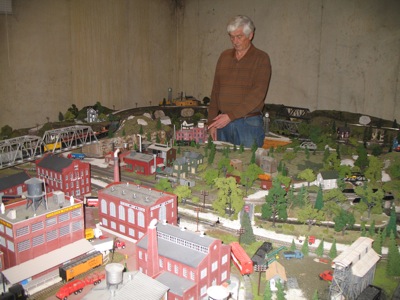 MINSTER - Dick Fortman watches as the train chugs up a steep incline before disappearing into a tunnel cut through the mountain overlooking Stallotown - a thriving community with a decidedly western theme.
The train pulls into the station giving passengers a glimpse of what life was like in the 1890s. Women in long, billowing skirts pick their way to and from the general store while a checker game is underway on the porch at the local doctor's office.
"It's a typical town for the era," Fortman says with a smile, while looking over the model train set he built with two towns. "One church, two bars, a gristmill, a guy shoeing horses and even somebody visiting an outhouse."
The retired Minster Machine Company employee moves from one set of controls to another. The steam locomotive pulls a line of loaded boxcars and a trailing caboose around the outskirts of Bedford Falls, a 1940s-era community with a mix of commercial, industrial and residential properties.
Glimpses of familiar establishments, like the Wooden Shoe Brewery, Bubeck Chevrolet, Minster Machine, Stallo Library and the St. Marys clock tower, bring Auglaize County flavor to the elaborate layout.
"I grew up three blocks from the train station in St. Marys," he says. "Trains fascinated me even as a kid and I never outgrew the fascination."
The 72-year-old father of two and grandfather of five remembers boarding the train during his high school days for occasional trips to watch the Cleveland Indians play baseball. The excursions left in the morning and returned the same day.
Fortman received a model train engine and several cars one Christmas, never imagining that one day he would own nearly three dozen engines and even more boxcars, coal cars, flatbeds and cabooses.
"I used to have a small layout maybe 15 feet wide by 20 feet long when we lived on state Route 119," he says. "The collection began after we moved here to Stallo Road in 1986. I wanted something to keep me busy in retirement."
The elaborate two-town layout, separated by a narrow walkway, takes up half the basement. He yearns to expand into an adjacent storage area leaving only the office/computer room. However, his wife Mary has no plans to surrender the space so he focuses on improving wiring and making better circuits for the time being.
Visitors are amazed at what he has built - sturdy bridges, intricate trestles and majestic mountains. Each involves hours of work and painstaking detail with a paintbrush. The mountains are formed from household plaster applied over mesh with 100 pounds used to date.
Skillfully applied polymer gives the illusion of water in numerous lake beds, creeks and even a waterfall. Fortman chuckles recalling the first time his wife saw a picturesque creek meandering among the rocks. She touched the glistening surface with a finger expecting to feel water and not a smooth surface.
Many of the buildings come in kits but the delicate balsam wood must be cut by hand with each door and window added prior to assembly. Fashioning each tiny shingle is tedious but the effort certainly gives a realistic appearance.
Fortman built the covered bridges from scratch as well as the bell tower, which sets in the midst of a park.
"I add my own touches," he says, pointing to Miss Mary's Millinery named for his wife, Mathew's Ford dealership named for his son and detailed boats bearing the names Ann and Morgan for his daughter and granddaughter, respectively.
The Wooden Shoe signs came from an old label applied to the locally produced and bottled beer while match books yielded the "warm beer" and "lousy food" placards affixed to Fast Eddie's Bar. The elaborate sign on the Avalon Inn came from a drink stirrer he picked up while traveling for the Minster Machine sales department. A Knuehner's Pumpernickel sign recalls a family-owned business no longer in operation in Minster.
"I enjoy the challenge of coming up with a concept and then bringing all the pieces together," he says. "Sometimes you just stand back and see what needs to be done. In many ways it remains a work in progress."
Fortman, who retired in 1998 after 36 years of service, spends several hours at a time in the basement. That is, during the winter when snow, ice and blustery conditions make his other passion - golf - out of the question.
"I love my trains but I also love golf," he says. "They are hobbies for all seasons. When the weather is bad for one, it's fine for the other."