Thursday, February 7th, 2008
Disastrous flooding
Grand Lake nearly two feet above normal level
By Shelley Grieshop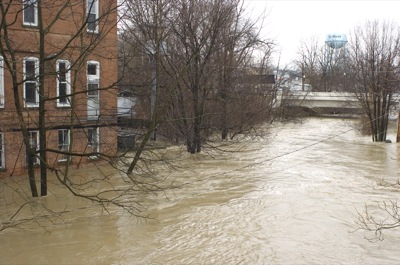 A state of emergency has been declared for Mercer and Auglaize counties following heavy rains this week that caused extensive flooding.
Officials in both counties met this morning to make the announcement and to coordinate the monitoring of conditions across the Grand Lake area. Mercer County received more than 4 inches of rain since Monday night. However, the situation is much more dire in Auglaize County where up to 8 inches has fallen, trapping residents in flooded homes and damaging numerous properties.
"The St. Marys River is still rising and is at 14.5 feet" above the normal level, said Wanda Dicke, director of the Mercer County Emergency Management Agency in Celina. The river is expected to crest later today.
Grand Lake is 22 to 23 inches above pool stage - the same level noted during the Independence Day flood of 2003, which caused extensive damage throughout the area. More than 15 inches of rain fell in about three days in 2003; state and federal disaster declarations were made and helped with the nearly $2 million in damage reported by businesses and residents that year.
Grand Lake St. Marys State Park Manager Craig Morton told county officials this morning he believes the lake has crested and will begin receding. That is good news for the Celina Medical Center, which was surrounded by floodwater on Wednesday. The facility is closed and offices have been moved. See sidebar for temporary locations.
"We're high but dry," said Ken Obringer, marketing and communications director for Mercer Health, which owns and operates the Celina building.
Obringer said water did not get past the cement barriers or sandbags put in place earlier in the week.
Dicke said the emergency declaration at the county level is necessary before a state or federal emergency declaration can be made. Anyone who has sustained damage to their property from the flooding should begin documenting everything, she said.
"Keep track of the damage, any invoices, everything, in case there is assistance coming," she said.
Right now it's a "wait and see game" whether the governor and/or president will declare the local area a flood disaster and open the door for special funding and/or damage reimbursement, she said.
Numerous state, county and township roads remained closed today in both counties due to high water. At press time, main highway closed in Mercer County include U.S. 127 north of Celina at the St. Marys River bridge; state Route 707 near Mendon and state Route 117 between state Route 118 and U.S. 127.
In Auglaize County, officials closed state Route 197 between state Route 66 and St. Marys River Road; state Route 197 east of state Route 66; and state Route 116, between state Routes 197 and 117.
Dicke said motorists need to be aware of all wet roadways.
"The water that was flowing across many of them has turned to ice," she said, adding that problem may continue as temperatures drop this weekend.