Friday, April 18th, 2008
Bulldogs start quick but finish stronger
By Ryan Hines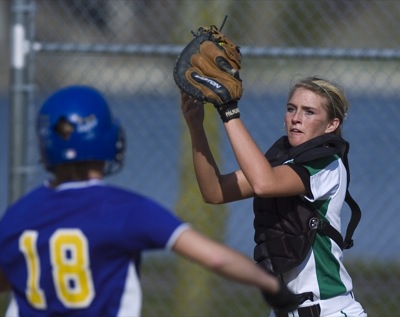 The Celina softball team started Thursday's game with some fireworks and then had to wait five innings to slam the door on Marion Local.
Audrey Harner led off the game with a home run for Celina and the Bulldogs then added six runs in the sixth inning for a 7-0 triumph over the Flyers.
As it turned out, Harner's solo homer to centerfield in the first inning was all the scoring that Celina needed as freshman Amanda Hoying kept Marion Local scoreless for her first career complete-game victory.
Hoying shook off some early control problems and got better as the game wore on limiting the Flyers to just four hits in the game while walking five and striking out six. Hoying had four of her walks and allowed three hits in the first two innings before settling down.
"She's kind of notorious for struggling a little in the first inning and then she finds her groove and gains confidence," said Celina head coach Nicole Driggs. "She got her stride down and that was a big difference for her. She got out of a few jams today and that was nice to see her come through the way she did when Marion Local had chances to score."
Celina's defense also played error-free softball in the field which impressed Marion Local first-year mentor Russ Puthoff.
"She (Hoying) did her job by throwing strikes after the start of the game and then their defense played very well behind her," said Puthoff. "They made all the plays that they had to, to keep us off the scoreboard."
Scoring opportunities were there for Marion Local, but the Flyers stranded eight runners on base, including six in scoring position.
Celina (7-1) nursed its one-run lead until putting together a big offensive rally in the sixth frame.
Kinzie Gardner laced a single to start the rally and then Allison Braun gave Celina a 3-0 advantage following a two-run laser that cleared the fence in centerfield for a home run.
Christine Thobe and Laura Homan added RBI singles while Harner ripped a two-run single to cap the six-run outburst.
"I think that we finally got our timing down in the sixth inning and I think that is what we are capable of doing," said Driggs.
Gardner had three hits to pace the 12-hit Celina attack while Harner, Homan, Braun and Thobe each had two hits apiece.
"In the sixth inning they really started to key on our pitcher more," said Puthoff. "She wasn't mixing up her pitches quite as much as we would have liked to have seen and when they hit it, they hit the ball hard. They are a good team and a hard team to keep under control."