Wednesday, June 18th, 2008
Grand Lake picks up first victory
By Gary R. Rasberry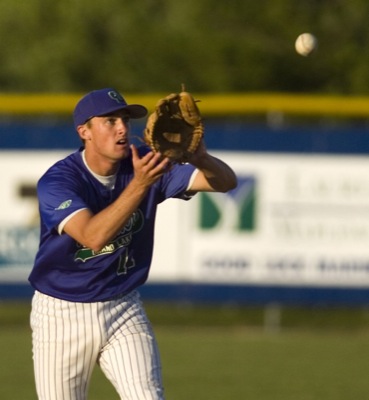 After three rough games, Grand Lake was looking to vent some frustrations.
The Mariners scored five times in the bottom of the sixth to come back from a 4-2 deficit, then got great relief pitching to shut down the Xenia Athletes in Action the rest of the way in a 7-4 win at Jim Hoess Field on Tuesday to go to 1-3.
The win keeps the Mariners out of the cellar in the Great Lakes Summer Collegiate League as Xenia holds that distinction dropping to 0-4.
Things looked rough early as Mariners starter and Coldwater grad Sam Slavik had control issues, giving up three straight hits and a walk to start the first inning, but solid defense helped make it just a 1-0 AIA lead.
After Xenia scored another in the top of the second, Grand Lake got on the board in the third. Nick Urban singled to lead off. Tom Fogerty laid down the sacrifice bunt down the third-base line, but the throw to first ended up in the Xenia bullpen, allowing Urban to score from first and Fogerty to end up on third, where he later scored on a passed ball.
Slavik began to settle down, but ran near the end of his pitch count in the fourth. After getting two outs, but giving up two hits and a run, Slavik was pulled after 84 pitches for Adam Goodpasture, who got the final out, then retired the side in the fifth before allowing an unearned run in the sixth to make it 4-2 Xenia.
"Pitch count was up," said Mariners skipper Zach Schmidt of Slavik. "It was only his second time out there (Slavik pitched in an exhibition game) and didn't throw a lot for UC (Cincinnati) He was up to 80 pitches and it was his time to come out. Once he settled in, he threw strikes and was getting guys out, so that's a positive thing. Next time out, he's got to be a little better at the start. Then he'll last later in the game."
The Mariners looked for a way to get to AIA pitcher Daniel Brodie, who allowed one hit through the first five innings. Brooks Hunton and Joe Mack got things started with back-to-back singles, prompting Xenia skipper Josh Hulin to call on Barry Benton to try and get out of the jam. Benton proceeded to walk Justin Brauer to load the bases for Brett Burch, then uncorked a wild pitch to score Hunton.
Burch then brought in Mack with a deep fly to left to tie the game and moved Brauer to third. Benton threw another wild pitch to score Brauer to put the Mariners in the lead at 5-4. Adam Gecewich followed with a walk and after a flyout, Urban was walked to bring up Fogerty, who cleared the bases with a double to left making it 7-4.
"Yesterday we had a practice and we worked on hitting, staying back and hitting to the other side of the field," said Schmidt.
That was all the Mariners bullpen needed. Jake Wielebnicki, who came in for Goodpasture in the top of the sixth and got a double play to end the inning, went 2 1/3 innings, allowing just a hit. When Brantley Meier reached on an error with two out in the eighth, David Paddock came on and struck out Andrew Page to end the jam.
"Games are won and lost in the bullpen," said Schmidt. "Our bullpen looked good tonight. We had a day off yesterday and were able to get back and get their arms fresh. We had everybody ready to go. We had our choice (of pitchers) and when it's your turn to go out there, you go out, throw strikes, do your job and be successful."
Heath Riley came on for the ninth and issued a walk to Ryan Yezak. Matt Creel followed with a bloop to the outfield, but Coldwater grad Troy Siefring dashed out from second base, got the ball and fired to a covering Fogerty at second to force out Yezak. Fogerty returned the favor, throwing to Siefring to force out Creel before Riley got Chad Thielepape to strike out to end the game.
The Mariners make a road trip tonight, heading to Lima to face the rival Locos at their new home at Simmons Field at 7 p.m. Grand Lake returns for four games starting Thursday as the Cincinnati Steam come in for a 7:15 p.m. contest.