Wednesday, August 27th, 2008
Celina impressive in season opener
By Ryan Hines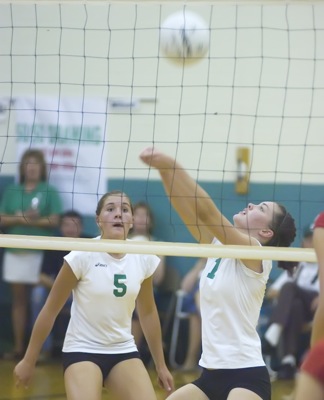 The schedule shows that Tuesday was the season opener for the Celina volleyball team, but it sure didn't look like it.
Celina appears to be in midseason form after sweeping St. Henry, 25-22, 25-20 and 26-24.
On the flip side, St. Henry has stumbled out of the gate as the Redskins are now 1-3 to start the season.
St. Henry head coach Lori Schwieterman had very little to say after watching her team struggle once again. The Redskins went 1-2 at the Centerville quad match on Saturday.
"I'm very disappointed in the way that we played, we haven't played a complete game yet," said Schwieterman as she quickly boarded the St. Henry team bus visibly unhappy with her team.
Celina head coach Carolyn Dammeyer was thrilled to see her Bulldogs play so well in their season opener.
"I'm really happy with the way that the girls played tonight," said Dammeyer. "They played confident and never let up. Our serving and serve receive was exceptional tonight and we just made good decisions all night. We basically have the same team back this year that went over and beat St. Henry in the opener last year, minus Liz (Homan) and a couple of other girls. They knew what kind of match it was going to be against St. Henry going into tonight and it showed in their confidence."
The Bulldogs were strong in all facets of the game, but defensively, it's tough to imagine Celina playing any better. Kelsey Waterman (nine digs), Audrey Harner (10 digs) and Meagan Stoker (seven digs), among others, seemed to cover the entire court against St. Henry's big hitters like Brooke Mattingly and Shelby Buschur.
"I thought that we played awesome defense and I was really happy with the way that we played defense," said Dammeyer. "We work on defense a lot in practice because I think that defense wins games. A good defense can rattle a big hitter when you're able to pick up a ball."
Despite being swept, St. Henry had a lead in all three games but Celina made all the plays when it mattered most.
In game one, St. Henry nearly handed the win to Celina as 15 errors were more than enough for the Bulldogs to help put the Redskins away. With the score tied at 21-21, Cenzie Yoder and Julie Klosterman delivered back-to-back kills and then Celina's last two points came on St. Henry miscues for a 25-22 triumph.
St. Henry hung with Celina through most of the second game, never trailing by more than two points until late. Celina led just 21-20, but kills by Erin Dorsten and Klosterman forced a St. Henry timeout. Waterman then closed the game with consecutive kills for a 25-20 victory.
Celina led early in game three, but St. Henry rallied back and actually held a two-point lead on six different occasions until the Bulldogs regained control late. St. Henry led 23-21 on a kill by Buschur, but Klosterman registered a kill and then made a nice block to tie the score at 23-23 leading to a Redskins timeout.
The Bulldogs came out of the timeout and won three of the final four points, including a Klosterman ace to seal the three-game sweep.
"We got good play all the way around from all of our girls tonight. I'm very proud of the girls," said Dammeyer. "For a first game out, it's almost scary."
Yoder led Celina with 10 kills seven blocks and four aces while Klosterman added six kills, 13 assists and three aces. Erin Dorsten also added four kills and five blocks.
Celina will open Western Buckeye League play on Thursday at Wapakoneta while St. Henry's Midwest Athletic Conference opener is also on Thursday at Delphos St. John's.