Wednesday, September 3rd, 2008
St. Marys girls soccer beats Celina for first time
By Gary R. Rasberry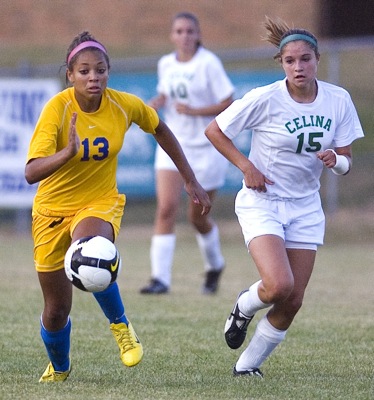 If Celina had anything going for itself coming into its Western Buckeye League girls soccer match against a St. Marys team that has outscored its opponents 32-1 in the first four matches of the season, one would be the Bulldogs' strong defense and the fact that St. Marys had never posted a win over the Bulldogs.
St. Marys, ranked eighth in the first state soccer coaches Division II poll, escaped Celina Soccer Stadium with a 4-3 win to stay perfect at 5-0 and 2-0 in the WBL. The Bulldogs, the defending WBL champs, drop to 2-2-1 overall (1-1 WBL) with the loss.
"We knew it was going to be a battle," said St. Marys coach Paul Dingledine. "We talked about it. Celina never lets down. We told them (Celina) would play 80 minutes. They played the whole time, we played hard the whole time."
It looked like St. Marys was ready to continue its hot shooting as Katie Heitkamp took a Kaysha Dietz crossing pass and put it past a diving Shelbi Nation to draw first blood with 31 minutes to go in the first half.
Celina made sure it wasn't going to be a one-sided game as St. Marys was called for a foul in the box, giving Celina a penalty kick. Paige Bigham put the shot away from Macy Davis-Ferrall at the 21:37 mark to tie things up.
St. Marys rebounded with a minute left in the half as Dietz bent a deep kick past Nation to give St. Marys a 2-1 at the half.
But as St. Marys started with momentum, the Bulldogs got it back. With 331/2 minutes left, Candra Francis put away a rebound shot to tie things up at 2-all.
Fifteen minutes later, St. Marys went back in front, this time Emilee Dudgeon knocked in another rebound shot to make it 3-2. But trouble came back quickly as the Roughriders again were called for a foul in the box. Bigham stepped back to the PK spot and put the ball past Davis-Ferrall to tie things up.
With the action getting hot and heavy, Celina tried to work hard to keep tabs on not only Dietz, but other key Roughriders. With the clock just under six minutes, Dietz got the ball and moved upfield, getting a crossing pass off her foot before the defense closed in. Samantha Davenport was open on the other side of the net, heading the ball into the back of the goal with 5:41 left to put St. Marys up once again.
"She has the knack to be able to get into an open space," said Dingledine of Dietz's crossing passes. "We've worked on it. She's worked on it and she's phenomenal when it comes to that. We just have to have someone on the backside to finish. Sam was there tonight. We're getting at least one header a game on a cross. Those are tough to stop."
"Kaysha's just an outstanding player," said Celina coach Calvin Freeman. "She's got speed. I thought we played our game. We played pretty consistent. We had a couple of breakdowns on crossed balls. Unfortunately, those things cost us. We were taking the 45s away but we missed a couple of crosses. They were able to finish."
With five minutes left, Celina tried hard to get another equalizer, but St. Marys picked up the defense to keep the ball away from the Roughriders' goal until the final whistle.
"I was happy how we started the game, then we got into a little bit on individualism," said Dingledine. "At halftime, I told them we have to get back to teamwork. We have to play as a team. We're not going to be able to win as individuals. I said that was Celina's goal: to break you down and make you play as individuals.
"It hasn't been just last year (when St. Marys' lone WBL loss was to Celina, giving the Bulldogs the WBL title). It's been nine years or how ever long it's been since we've been in the WBL (for girls soccer). This is the only team St. Marys has never beaten. That's done now. We're there. My hat's off to Celina, they played a heckuva game and they're going to win a lot of games this year."
Freeman was complimentary to the Roughriders.
"My hat's off to St. Marys, they played outstanding," said Freeman. "They played outstanding. They brought their A-game and played it. They're a good team. They were a good team last year when we faced them. I didn't expect anything less.
"I know what it's like to beat a rival, so it's his turn in '08. We've got some work to do. This is not the end of the season for us. We're going to have to come back out, play hard and play our game, and hope the chips fall in our favor."
In the junior varsity contest, Celina won 3-1.
St. Marys is back home on Monday, facing Defiance in another WBL battle. Celina is at home on Saturday, hosting Greenville with a noon junior varsity start.