Friday, September 12th, 2008
Flyers prevail in first big MAC challenge
By Randy Bruns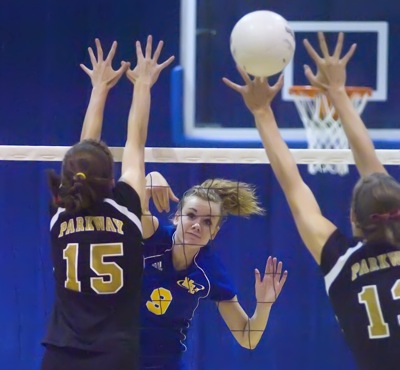 MARIA STEIN - The first big battle of the 2008 Midwest Athletic Conference volleyball season was staged at The Hangar on Thursday night, and the Marion Local Flyers prevailed in a four-game slugfest over the Parkway Panthers, 25-23, 21-25, 25-19, and 25-17.
Marion Local stays undefeated at 10-0 overall and 3-0 in the MAC, while Parkway falls to 8-2 on the year and 2-1 in league play.
Nothing came easy for either team on this night, as both defenses put up solid blocking walls that were backed by scrappy digs in the back row. The result was a back-and-forth affair played in front of an enthusiastic crowd on both sides.
The Flyers jumped out quickly in the first game, as two kills by Alyssa Winner in a five-point run helped vault the hosts to a 13-7 advantage. The Panthers slowly clawed their way back, though, and after a block by Emily Crowell and a Flyer hitting error, the score was tied at 19-apiece.
Later, three straight errors by the visitors put the Flyers at game point, but three straight Panther points made things interesting. Finally, a kill attempt by Marian Bevington went long and gave the hosts a hard-fought first-game win.
The second game was another tooth-puller, as the score was tied a total of 10 different times. The last tie came at 17-all, but a kill by Bevington and two straight errors by the Flyers gave the Panthers a 20-17 advantage. Kills by Leah Rosenbeck and Kelly Schlarman then drew the hosts back within one, but Crowell finished up a three-point run with a kill to give the Panthers control again. Tara Luth ended things with a scoring tip that evened the match at one-game apiece.
Things stayed tight early in the third game, as the Flyers led most of the way but couldn't build a sizable bulge. The Panthers were hanging tough and down just 14-13 but then three straight hitting errors gave the Flyers a four-point advantage. From there on out, the hosts never surrendered more than one point in a row, and freshman Margaret Wuebker put an end to the game with a kill on an errant Panther pass.
The finale started like the first three games, as the score was tied eight times early on with the last one at 14-apiece. That's when the Flyers got rolling, as two straight Panther hitting errors and a kill by Rosenbeck put the hosts up by three. Another hitting error by the visitors brought on a timeout, and the next point essentially ended things.
After a marathon rally that was kept alive by a sensational dig of a Bevington smash by Megan Schaefer, Wuebker registered a scoring block that gave the Flyers what proved to be an insurmountable 19-14 advantage.
"That was a great high school volleyball match with some great plays made on both sides," said Parkway coach Jeff Marbaugh. "One thing we've been working on is cutting down on our errors. With two good teams out there tonight, the one with the fewest errors was going to win the match and that's what happened. Overall it was our unforced hitting errors that made the difference."
With Parkway doing everything it could to contain Winner at the net, the Flyers were forced to find other ways to score.
"We had to really mix up our offense, not only with different people but different kinds of sets and shots," said Marion coach Amy Steininger. "(Parkway) was picking up a lot of our hits, and finally at the end of the third game and the start of the fourth game we played with more emotion and our defense really picked it up."
Though her Flyers still sport and unblemished record, Steininger knows there is plenty of room for improvement.
"We have a long way to go yet, and we want to peak at the end of the season," said Steininger. "We want to keep winning obviously, but we haven't put it all together yet, and that's okay. A match like tonight's definitely shows us what we need to work on."
Parkway will get quickly back into action Saturday with three matches at Lima Bath's Kewpee Invitational, while Marion begins a stretch of four matches in six days Monday when it hosts Russia.