Monday, October 27th, 2008
Halloween goes to the dogs
By Margie Wuebker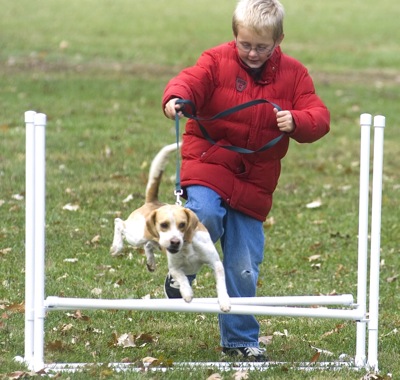 Pooches in all shapes and sizes came to the Mercer County Fairgrounds on Saturday afternoon to strut their stuff at the 2008 Dog Walk and Family Fall Fest sponsored by the Animal Protection League of Mercer County.
What a day for canines as they bided their time with doggie pedicures, free hayrides, turns around the agility course, professional pet photos and a chance to win prizes in categories ranging from cutest dog to best trick.
Peanut, a mild-mannered, long-haired Dachshund, sauntered beside his master, Garrett Burger of St. Marys, waiting for the doggie costume contest to commence. The little fellow did not seem to mind the chilly and brisk wind as he sported a rather appropriate costume.
"We decided to dress him like a hot dog, bun and all," Rhonda Burger said. "After all, he really is a wiener dog."
The Burgers rescued Peanut and his brother two or three years ago.
Trouble, a 7-year-old Chihuahua, shivered in the arms of owner Kim Winans of Celina while longing for her "blankie" back in the car. Looking rather fetching in her orange and black dress decorated with a skull and crossbones, she eyed other girls on the grounds and showed interest in a soft pink sweater complete with hood.
"She loves wearing clothes particularly dresses and sweatshirts," Winans said reaching for the dog's contest attire - witch's togs complete with a peaked black hat liberally trimmed in orange.
Ask Kalie Gardner of Celina who came first - she or the prancing rat terrier known as Mindy. Both are 13, although the dog arrived a week after her beloved mistress.
Sporting a pink velveteen dress with a ring of faux jewels about the hips, Mindy danced at the end of her leash, ready for the show ring.
"Mindy's entire face used to be black," Gardner says. "Now it gets grayer with each passing year."
Leesa Reynolds of Neptune cuddled Marlie, a long-eared dog up for adoption through the Animal Protection League. Dubbed the "so ugly it's cute winner," Marlie won a foxy pet bed for cold winter nights.
"Marlie is a nice dog who simply needs a loving owner," Reynolds said. "And she is a prize winner to boot."
When it comes to award-winning tricks, the Husky Malamute Max took the prize.
"All you have to do is howl and Max howls along," owner Robyn Butz of Celina said, demonstrating the trick as Max's mournful howl draws the attention of judges.
Uncle Sam stole the show as he entered the ring with owner Joice Gates of Celina. The Sheltie, all dressed in red, white and blue complete with sparkly top hat, nonchalantly walked out of his striped trousers while entering the ring. People lining the show ring laughed and applauded as Gates retrieved the pants.
"I was in a hurry and I guess the pants didn't get hooked up right," Gates confessed with a chuckle as she accepted a prize for her dog.