Friday, January 16th, 2009
Zorn digs deep in area hoops history
By Randy Bruns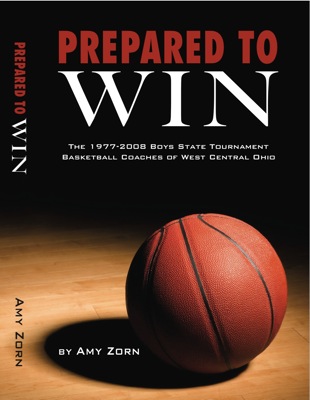 An area English teacher has turned her love of basketball into an intriguing look at some local boys coaches who have reached the pinnacle of success.
Amy Zorn, who formerly taught at Jackson Center and now toils at Anna, is the author of the recently published Prepared to Win. The 293-page hardcover book focuses on 14 head basketball coaches from Shelby, Auglaize, and Mercer counties that have taken their teams to the state tournament over the past 31 years.
Included in the book are current coaches Joe Niekamp (St. Henry), Keith Westrick (Marion Local), Mike Lee (Minster), and Dan Hegemier (New Knoxville), as well as former area legends Fran Guilbault (St. Henry) and Jack Albers (Marion Local).
The book is unique in that it is comprised almost entirely of material obtained in lengthy interviews with each coach. From pre-game preparation to in-game strategy to post-game cool-downs, no area of these coaches' mindsets has been left uncovered.
"I wanted to accomplish two things with this book," says Zorn. "I wanted to give fans the thought process behind a sampling of the coaching in this area and I thought it was important to provide a bit of history so that down the road in 50 or a 100 years there will be at least a small record of what basketball meant to people."
Though not all area coaches with state tournament experience are featured, Zorn did what she could to talk to as many as was practical.
"The most difficult decision was what coaches to interview," said Zorn. "Since I'm a Shelby County native, I wanted to include those coaches. I went to their schedules to find common opponents and arrived at the other schools represented in the book. It wasn't a question of who are the best coaches in the area or who are the most heralded. It was a matter of setting a standard that was as objective as possible to limit the scope of this book."
Once she had pared down the list, getting the coaches to cooperate was no problem at all.
"After I compiled the list of coaches I wanted to interview, I called each of them," said Zorn. "Some I'd known for decades and others I'd never met before, but all of them agreed immediately."
What resulted was some fascinating commentary from the coaches on virtually every aspect of their jobs. Since Zorn posed essentially the same questions to every coach, it is interesting to note the similarities and differences between the ways the coaches think.
One example is a specific difference between former St. Henry coaches Guilbault and Al Summers. Guilbault, who coached three state title winners, doesn't mince words when he says in the book that he never changed his style through the years and that always he expected the players to change to fit his scheme.
Summers, who succeeded Guilbault and brought the Redskins to the state finals in 2000, is the polar opposite of Guilbault in that regard and states unequivocally that he would never stick to just one style of play.
The coaches were also eager to give their opinions on changes that the game has seen. Some were happy to see the introduction of the three-point line while some hated it, and many had plenty to say about how physical the game has gotten.
It's not a dry book, either. While none of the coaches should be thinking about a career as a stand-up comic, there is plenty of dry wit mixed in with the talk of preparation and strategy. Hegemier, in particular, contributed more than his share of droll accounts of dealing with players and their parents.
Zorn says that during the entire writing and publishing process she has done her best to keep the coaches in the forefront.
"I'm happy if the fans like it and want (the book), but my first obligation is to the coaches in the book," said Zorn. "Every decision I've faced from a word choice to the design of the cover to the sale of the books has been based on what is best for these 14 men. If they are pleased with the product and are proud in some way to be part of this project, then I can be satisfied with what I've done."
Prepared to Win, which is priced at $25, is available at any Ernst Sporting Goods store and also can be purchased at select basketball games where Zorn is signing books. Zorn will be at the Marion Local/Versailles boys game on Friday night and the Fort Recovery/St. Henry girls game on Feb. 5th.