Wednesday, January 28th, 2009
Feeling the pain
Jobless rate keeps going up
By Shelley Grieshop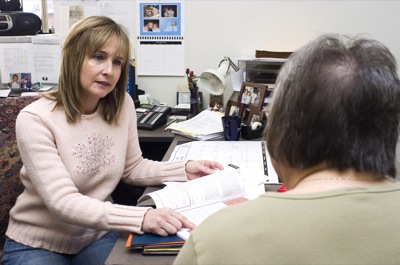 Local unemployment numbers went up in December and are predicted to go even higher in January.
But those numbers alone may not accurately reflect the problems plaguing the Grand Lake area. Not represented in unemployment statistics are those people whose salaries were cut, hours reduced and benefits taken away.
The fallout is visible: applications for government assistance are on the rise, local agencies say.
"We're all concerned how long this will last and how serious it will be," Larry Stelzer, director of Mercer County Community Development office, said.
Stelzer and his staff have begun visiting area businesses to offer support.
"They're worried," he said. "But they're not panicking. I think most of them can weather the storm for a while."
The unemployment rate for Mercer County rose just 0.5 percent from November to December and stands at 5.8 percent; Auglaize County numbers rose 0.7 percent to 6.8 percent. Rates in both counties are much lower than the state and national figures of 7.8 and 7.2 percent, respectively.
In December, 1,400 people in Mercer County were jobless - that's 100 more than the month before and 300 more than a year ago. In Auglaize County 1,800 people were without work, up 200 from the previous month and 400 from December 2008.
Layoffs, until recently, haven't been a common occurrence in the Mercer and Auglaize county area. Celina Aluminum Precision Technology (CAPT) didn't even have a layoff plan until earlier this month when they reached a 35 percent drop in orders from their sole buyer, Honda.
"We tried several counter measures first," Assistant Vice President Dennis Lee said, adding officials initially focused on adjusting the budget, reducing scrap, improving efficiency and capping overtime.
But by Christmas, they knew bigger steps had to be taken, Lee said. Last week they laid off 70 of their 500 employees - 15 percent of their workforce.
At the end of this month, 100 of the nearly 500 workers at AAP St. Marys Corp. in St. Marys will join the ranks of the unemployed, according to Associate Relations Manager Dan Hosek.
"We've never laid off in the 21 years we've been in business," he added.
Like CAPT, AAP manufactures parts for the failing auto industry. Hosek said the company implemented a plan to avoid layoffs but ultimately couldn't hold out financially.
"AAP is still very optimistic about its long-term future and confident the actions being taken in the short-term will help it survive the current crisis," Hosek said.
Crown Equipment in New Bremen, the largest employer in Auglaize County, is coping with "a dramatic drop" in sales in the forklift industry, Human Resources Vice President Randy Niekamp said. Due to competition concerns, he would not discuss the number of employees on layoff or other cuts.
"We're working through this," he said. "We're living in economic times that we've never lived through before. It's not easy for anyone."
Manufacturing plants aren't the only businesses affected by the economic crisis. The Wal-Mart Supercenter in Celina has reduced full-time employees' hours to 34, according to store manager Chris Carroll.
"We're living week by week," he said. "Right now our sales are flat with last year. Thank God everybody has to eat and buy necessities."
Marty Dodrill, spokesman for Grand Lake Health Systems in St. Marys, said many of its nearly 700 workers have received considerable reductions in hours. One of the biggest problems encountered by the health industry right now lies in the accounting department - bad debts, he said. People simply aren't paying their bills.
"We'll continue to seek ways to be more efficient without cutting patient care," Dodrill added.
When family budgets shrink, the restaurant industry is often the first to feel the pain. Julie Fleck, co-owner of Bella's Italian restaurant in Celina, said she began noticing a definite drop in business the day the word "recession" hit the front page of the local newspaper.
"Of course we're feeling the effects," Fleck said. "We live in a German Catholic community where people are quick to tighten their belts."
She hasn't terminated any employees but has cut a few shifts during the week, she said.
Amidst the doom and gloom economic forecast, Stelzer said he remains cautiously optimistic.
"We'll probably be the last to feel the recession but that also means we'll probably be the last to recover," he said.

Getting help:
The growing number of jobless today face different obstacles than those who pounded the pavement to find work years ago.
Gone are the days of driving to the unemployment office where benefit forms were filled out and skills were matched like puzzle pieces to find a new job.
"You can only file for unemployment by phone or online," explained Traci Bell-Thomas, a spokeswoman for the Ohio Department of Job and Family Services.
Phone lines are almost always busy and in early January the state's computer system crashed from the increased number of people trying to access it, she admitted.
Finding work in today's job market also requires savvy computer skills, something many people - like 57-year-old Ray Kramer -just don't have.
"Everything is online these days and I'm at a loss," said the St. Marys resident.
Kramer was laid off in early December from Carter Lumber in rural Celina. The company also laid off three other workers and closed their business in Greenville because of the lagging economy and slow housing market.
Kramer also lost a job seven years ago but found it much easier then to obtain work in his field of retail management and sales. Today, applying in person for a skilled job is almost fruitless, he said.
"They tell you there's jobs available but you have to either check out their Web site or send them an application online," Kramer said.
He admits he's one of the lucky ones: he is single so he doesn't have a family to support. But his savings will only last so long, he said. He's gotten new hope from the staff at the Mercer County Workforce Investment Act (WIA) agency, who are helping him adapt to the computer age.
"We are seeing a lot of laid off clients who are frustrated and confused about what to do next," said Karen Platfoot, program manager for WIA, which serves Mercer, Auglaize, Van Wert and Hardin counties.
Everyone receiving unemployment benefits is referred to their local WIA One Stop office to obtain resources to search for jobs. The staff helps with computer/Internet use, faxing, resume and cover letter writing, as well as information on educational opportunities, Platfoot said.
The WIA office has been increasingly busy with an influx of clients the last few months, she said. The scenarios are heartbreaking, she said: some are facing bankruptcy or home foreclosure and in some cases both parents are laid off and seeking jobs. Officials know minimum wage jobs don't offer benefits or come close to meeting expenses.
"We are seeing a lot of highly-skilled factory workers with good work histories and good work ethics who want to stay in this area," she said.
Unfortunately, factory jobs are scarce and layoffs are expected to continue, Platfoot said.
For information on how to file for unemployment benefits call 877-644-6562 or go online at www.unemployment.ohio.gov.
- Shelley Grieshop