Monday, February 2nd, 2009
Celina native helps research new White House team
By William Kincaid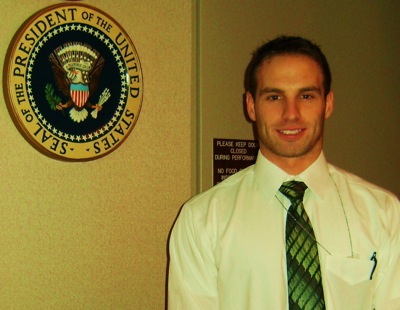 Celina native and Tiffin University student Kevin Hehmeyer recently worked as a White House intern for former President George Bush.
He helped create a smooth transition for the new administration.
"I think the best word for it is surreal," Hehmeyer, 23, said about his internship with the Executive Office of the President in the White House.
Hehmeyer successfully applied to the university's Washington Center Program in December 2007 and was one of 100 interns selected to work in the president's office.
Hehmeyer - who earned an associate's degree in criminal justice and a police officer certificate from Rhodes State College before pursuing a bachelor's degree in homeland security and terrorism at Tiffin - was assigned to one of four teams in the West Wing.
When he arrived in D.C. in August, Hehmeyer wasn't explicitly told what was going on in the White House.
But he knew what was going on.
"We were in transition mode," Hehmeyer said.
One of Hehmeyer's primary objectives during his semester-long internship: profiling and researching senior officials for Barack Obama's national security agencies.
"We pretty much stalked them," Hehmeyer said, referring to searching for biographies, resumes, documents and other information about candidates.
Because of the sensitive nature of his work, all Hehmeyer could say was his team sought the most qualified candidates.
"It's a lot of responsibility," he said.
One day, Hehmeyer was given a 3-inch binder full of papers to take to the West Wing, which ended up in former President George Bush's hands. It contained papers that he and his team had worked on for countless hours.
"I knew that all my hard work that week was not only going to be looked over by the President of the United States, but also Barack Obama," Hehmeyer said in an article published in Challenge, the magazine of Tiffin University.
When asked about Bush, Hehmeyer, a Republican, had nothing but good words.
"The man is the unsung hero of our nation ... principles over popularity - that's it," he said.
The victory and eventual transition of Obama was bittersweet, Hehmeyer said.
He was happy to see a historic moment, but said the election proves that experience is no longer required. However, he now backs Obama because he is the president, he said.
"I'll support Obama no matter what," he said, hoping Obama can pull the country and its polarizing political divide together.
After graduating from Tiffin this spring, Hehmeyer will begin an eight-year - and possibly lifelong - career with the Navy Seals, which he was accepted to last summer after a physical examination and background check, in addition to three intense workout sessions every day in college.
"I believe life is about taking risks - calculated risks," he said.
But hard-earned success did not come without high costs.
In high school, Hehmeyer steered clear of booze and drugs and said he lost some friends over it.
"My future is too important to me ... I know I have one life and I don't want to waste it," he said. "It's about your determination. If you're willing to sacrifice."
While at a White House Fellows luncheon, Hehmeyer said he met a Navy Seal officer who was recently in Afghanistan.
The agent gave Hehmeyer the following advice on his future Navy Seal work: "Don't let anyone tell you that you can't do it. Not your friends, not even your family. You just put your head down and drive through that six months of agony."
Hehmeyer also believes God had a chosen path for him.
"I pray to our Lord and trust in him to keep me motivated in the gym, and since I made the decision to become a Seal almost two years ago, my scores on the Navy Seal physical screening tests have only gotten higher," he said.
Hehmeyer - who was fascinated with James Bond as a boy - said his ultimate goal is joining the CIA.