Monday, February 9th, 2009
Cavs finish second, Bulldogs third
Greenville takes tournament title
By Gary R. Rasberry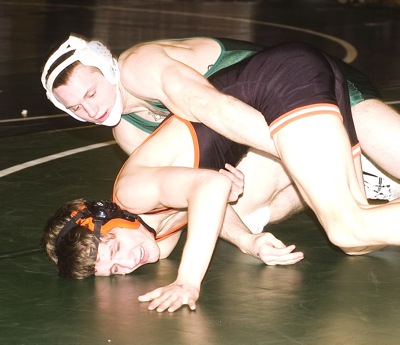 The competition at the 2009 Lions Wrestling Invitational was intense with four teams in line for the team championship going into the championship round, with host Celina and Mercer County rival Coldwater within a few points of each other.
In the end, Greenville made the biggest jump, scoring 104 points in the championship and placement rounds to leapfrog Celina and Coldwater to take the title with 220 points.
The Cavaliers held off the MatDogs for second by a 2031/2-195 margin. Versailles captured fourth place with 1751/2 points. The other Midwest Athletic Conference wrestling school, Delphos St. John's, took sixth in the 10-team meet with 1221/2 points.
The Green Wave took home the title by recording four wins in championship bouts and a number of placement wins.
Coldwater had a strong day, placing a wrestler in each weight class' top-six, bringing home one title as Keith Uhlenhake won the 215-pound round robin with a 7-2 win over Mark Castillo of Ayersville.
Runners-up honors for the Cavaliers included Adam Alig at 189 pounds, Nate Harlow at 160, Trent Muhlenkamp at 140 pounds and Brock Timmerman at 130 pounds.
Coldwater coach Chuck Alig was happy with his team's effort on the day.
"We're happy with it," said coach Alig. "We've struggled in tournaments like this. We did very well today. They wrestled very well. I'm proud of them.
"We had every kid place today. That was the key: it was a total team effort. It wasn't just one or two individuals"
The Bulldogs also had a number of wrestlers in the placement round, but brought home only one title as Alex Dues capped off his day by winning his 100th career match in capturing the 152-pound title, beating Versailles' Thomas Fullenkamp 7-2.
Dues went 5-0 on the day with a pin, a technical fall and a pinfall in a competitive field, earning him the Outstanding Wrestler of the Tournament award in a close battle with Fremont Ross' Yohe Rojas, who not only defended his 135-pound title, but set the Little Giants' career win record in scoring his 136th win in the championship match.
"It went really well. I tried to wrestle my best," said Dues. "I knew it was going to be tough (against Fullenkamp), but knowing it would be my 100th with the win gave me motivation."
Earning second-place honors on the day for Celina were Adam Cron, who lost to Greenville's Jon Edwards in the 103 round-robin final, and Codey Welker, who lost to returning state qualifier Mike Treon of Versailles via pinfall in the 285 final. R.J. Baskett (112) and Cody Doner (140) brought home thirds with Chad Braun (135) and Curtis Doner (125) adding fourths.
"Another good year," said Celina coach Tim Doner. "Competition was close. Congrats to Greenville and Coldwater. Pretty good teams.
"We're just young. Got some young spots where we didn't do well in the finals. Other than that. Kids did great."
Versailles made a jump from fifth to fourth in the championship round in scoring 80 points, thanks to wins in four championships. In addition to Treon's win, Andy Bruns won at 140 pounds with Tyler Bey winning at 160 and Aaron Coons taking the 171 title.
Celina now gets ready for Saturday's Western Buckeye League tournament at Wapakoneta. Coldwater, Versailles and St. John's will compete in the MAC trimatch on Saturday at noon in The Palace in Coldwater.