Thursday, February 19th, 2009
Fear rises on both sides of immunization battle
By Shelley Grieshop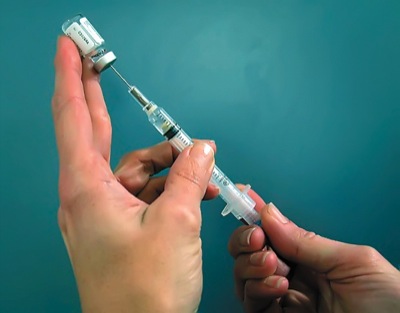 Health officials locally and across the state of Ohio are alarmed at the rising number of parents refusing to immunize their children.
Between 1998 and 2008 the number of parents seeking immunization exemptions for their children has quadrupled, according to the Ohio Department of Health. The fear that vaccines contribute to autism still exists, despite denials from the medical community.
Joyce Jansen, director of nursing and contagious diseases for the Mercer County-Celina City Health Department, says she understands the fears but hopes parents search out legitimate information on the subject before making a decision for their children.
"People often use the Internet to find information but you don't always know who wrote what and if what you're reading is accurate," Jansen said.
She believes many illnesses such as measles, mumps and polio are on the rise in countries like England, Australia and Africa because vaccinations are being sought less and less.
"People here go to these countries, that's how these diseases spread," Jansen said.
Illnesses that at one time appeared to be eradicated from the U.S. are returning and people not vaccinated are most at risk to get the diseases and develop complications from them, she added.
All states require children to be immunized for school but Ohio and 19 other states permit parents to sign an exemption form citing religious or personal reasons for not doing so.
The Daily Standard spoke to several local families who do not immunize their children for a variety of reasons. For fear they or their children might be ridiculed for their beliefs, they all refused to speak publicly on the subject.
Speaking anonymously, the parents said they believe there is a connection between autism and vaccines and those beliefs are based on information they've read in books and on various Web sites.
The autism/vaccine controversy began in 1998, when a British newspaper linked developmental delays with vaccinations for measles, mumps and rubella (MMR).
In a ruling one week ago, a special federal court in Washington said vaccines were not to blame for autism in three children, whose parents had filed claims asserting the MMR vaccine - which contains the mercury-based preservative thimerosal - was responsible.
Jansen said autism is a hard disease to understand and she believes it has been the label for many behavioral and neurological problems in children who do not fit other medical diagnosis.
"People sometimes just need something to blame," she said. "There's never been any link found between vaccinations and autism."
Most of the parents who spoke to the newspaper said they are confident the way they raise their children - healthy eating and general lifestyle habits - sufficiently boosts their youngsters immunity. Some also said they fear giving a child too many vaccine doses at one time increases the chances of a serious reaction.
Jansen rebuffed that theory. Mercury, which is used as a preservative and often blamed as the main link to autism, is used very minimally today, she said.
"Years ago, they used large, multi-dose bottles, which vaccine doses were drawn out of continuously. Those contained a higher dose of preservatives to make them last," she explained. "Today we use individual dose syringes that require only a minimal amount (of mercury)."
She said drug companies do their homework on the vaccines they produce.
"Yes, they want to make money, but do you think they really want to get sued?" she asked.
Jansen said getting shots is an inconvenience and some patients do have minor reactions. But in her nine years with the local health department she's never had a case more serious than a child with a high fever.
Jansen said she doesn't blame parents for trying to do what they think is right, but hopes they are being guided in the right direction.
"I understand the fear, I have children, too. It's normal to be afraid," she said. "But if a child gets a preventable disease and has problems, it can cause death or lifelong health problems."
Jansen advises parents to seek more information on the subject from sources such as the Centers for Disease Control (CDC) and Prevention at www.dcd.gov/vaccines or the Immunization Action Coalition (IAC) at www.immunize.org and www.vaccineinformation.org.