Saturday, April 18th, 2009
Celina residents enter political fray with objections to Homeland report
By William Kincaid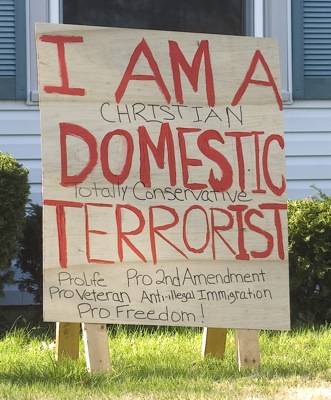 Three Celina residents are outraged at remarks made recently by Homeland Security Secretary Janet Napolitano about possible right-wing extremism in the U.S.
In response, the trio of polemicists have posted provocative signs that they say have already caught the attention of motorists.
The report released by Homeland Security said "the return of military veterans facing significant challenges reintegrating into their communities could lead to the potential emergence of terrorist groups or lone wolf extremists capable of carrying out violent attacks."
"The statements made in the report from the DHS are wholly inappropriate," Malea Poor, 524 E. Fulton St., wrote in a response to the newspaper on Friday. "I view it as a declaration of "open season" on any of us who do not tow the liberal line."
"It is not unthinkable that myself and others like me who hold to those beliefs declared as radical by this report may find ourselves stripped of our liberties in the name of National Security," she continued.
Poor erected a sign on Thursday afternoon with her own ironic proclamation. "I am a Christian domestic conservative terrorist," the sign states. It also says she is pro-life, pro-veteran pro-second amendment, anti-illegal immigration and pro freedom.
Poor and her neighbor Rosita Drexler, 526 E. Fulton St., discussed the Homeland Security report together and agreed to publicly address their anger. Drexler also put a sign up in her yard that says "Me too" in response to Poor's sign.
Drexler told the newspaper she has never protested or participated in political activism of any sort prior to this week.
"I want people to question that," she told the newspaper on Friday afternoon.
"They ... spent the evening talking to neighbors who were asking what was going on and waving to passers-by who slowed to gawk at the signs," Doug Drexler, Rosita's husband, said. "It also served as a (discussion) starting point for our children and the neighborhood teens who asked their dad what was going on."
"I want them (the children) to have freedom of speech - in the future to be able to do that," Rosita Drexler said.
Poor also stated she is frustrated with the government as a whole and certain elected officials who seek approval from citizens and leaders of other countries.
"Those same elected officials along with their representatives never seem to miss an opportunity to shame, denigrate and tread upon the backs of us, the very people whose approval they should be concerned with garnering," she wrote.