Monday, May 4th, 2009
Coldwater, St. Henry win in Dayton
By Gary R. Rasberry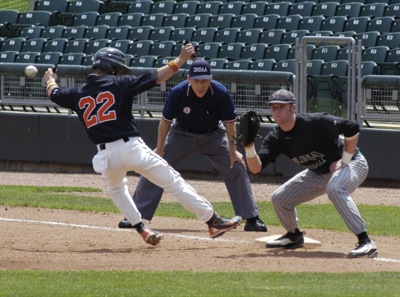 DAYTON - Mercer County teams picked up a pair of wins as Celina, Coldwater and St. Henry traveled to Fifth Third Field in Dayton, home of the minor league Dayton Dragons, for games on Sunday.
In the opener, Coldwater scored four runs in the bottom of the first, then held off Celina for the 6-3 win to sweep the season series with the Bulldogs.
In the second game, the Redskins overcame a 4-1 deficit to tie the game against Covington in the fifth inning. After losing the lead in the top of the seventh, St. Henry capitalized on two Buccaneer errors in the bottom of the inning to take a 6-5 win.
Coldwater 6, Celina 3
The Cavaliers trailed 1-0 early, but got to Bulldog starter Darin Waterman quickly in the bottom of the first, sending eight men to the plate and bringing in four runs as a trio of Celina errors allowed two of the runs to be unearned.
Keith Wenning quieted the Celina bats in the second, but a walk to Brian Brockly and single by Darin Waterman, followed by Jeremy Kerr getting hit by a pitch, loaded the bases for Jared Bader, who grounded to second for a force out to score Brockly. Hayden Heiby appeared to ground out to end the inning, but Bill Geeslin dropped the throw at first to score Waterman, cutting the Cavs' lead to 4-3.
Waterman worked out of jams until the fifth, when Cory Klenke took a 3-0 offering over the fence in the leftfield power alley - listed at 381 feet - for a solo homer. Wenning followed with a single and scored on an error on Adam Rammel's grounder to make it 6-3.
"We were down 4-3 at one time with a runner at second (Kahl Knapke) and with one of our better hitters up (Brian Brockly). We were hoping for a base hit and it didn't happen," said Celina coach Drew Braun, referring to Brockly striking out to end the fourth. "We came out a little bit sluggish, a lot of errors. I looked at coach (Brian) Edwards and said we looked like we haven't seen a baseball field and he reminded me we hadn't seen one since Monday (the last time Celina played). I guess that is a little rusty."
Wenning allowed a single to start the sixth, but retired the final six batters he faced to get the win, striking out eight and issuing just two walks.
"He wasn't really sharp going into the game," said Coldwater coach Brian Harlamert of Wenning. "Got a little warmed up and I think he was better from the fourth to the seventh. Big for us to get that lead."
Zach Siefring was the only Cavalier with a multi-hit game, going 2-for-4 with an RBI. Waterman continued his hot batting, going 3-for-4 and scoring two of the three Celina runs.
"Beautiful day. Two good teams playing a good ballgame," said Harlamert.
"The kids were excited when they got here," said Braun. "They were most excited by the outfield because they've seen infields that looked this nice, but people don't take care of the outfield like they do here."
St. Henry 6, Covington 5
The Buccs, coached by former New Knoxville coach Mitch Hirsch and ranked fourth in the most recent Division IV state poll, got to Redskin starter Chad Siefring early, scoring twice in the top of the first and another in the third. Then Brad Kremer came in to pitch with two batters on base with one out and Kremer got the final two batters out to get out of the inning with the Redskins down 3-1.
Down 4-1 in the bottom of the fifth, St. Henry, ranked ninth in the latest Division III state poll, rallied. Jason Westgerdes led off with a walk. After Jake Stewart struck out Kremer and Westgerdes stole second, Nick Bruns singled in Westgerdes and promptly stole second. After a groundout, Nick Rindler singled in Bruns, then stole second himself, setting up an RBI single by Jordan Post to tie the game.
"Give the team a lot of credit for coming back," said St. Henry coach John Dorner. "Down 4-1 late, it was a big rally to get it tied."
In the top of the seventh, Nate Lavey singled and stole second, but Bruns made the smart play to Zach Fishbaugh at third for the tag out on a Andy Sparks single. Kremer got Andrew DeHart to ground to first before Chris Long grounded to third. Rather than tag the approaching Sparks to end the inning, Fishbaugh threw a wild one to first, allowing Sparks to score.
Kremer started the bottom of the seventh with a single, but was thrown out trying to steal second. Bruns then singled. After Neil Schwieterman walked, Rindler grounded to reliever Jake Bitner, but the throw to second to start a possible double play went into centerfield, scoring Bruns to tie the game.
Bitner then struck out Post, but catcher Adam Craft could not hold on to the ball, allowing Post to try for first. Craft's throw went into short rightfield, allowing Schwieterman to score the winning run.
"All of the sudden, both teams started making poor decisions. I guess it's what you call winning ugly," said Dorner. "We'll take it nonetheless. You get out here on a big diamond like this, it's a thrill of a lifetime."
Bruns capped off a big day with a 4-for-4 game, scoring two runs and driving in another while Kremer added two hits.