Thursday, May 14th, 2009
Blast from the past
By William Kincaid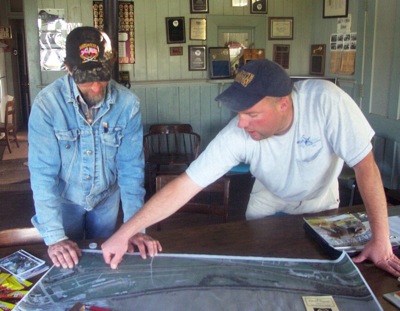 FORT RECOVERY - With cannons blazing against the evening sky and hundreds of civil war re-enactors engaged in simulated battle, Ambassador Park will host the first Civil War at the Fort next year.
Scheduled for Sept. 10-12, 2010, the event will feature battle re-enactments, an artillery night fire, a Civil War grand ball, a vintage baseball game, military drills and demonstrations, kids games and more.
"You meet people from across the world - it's something," said event organizer William Collins, a re-enactor and a member of the nonprofit Fort Recovery Ambassadors.
Ambassador member Chris Bechtol, who said the group already received permission from the village to host the weekend event, hopes to use the park and nearby land to bring history to life.
"Here we've got the river, different terrain, the bridge to capture," Bechtol said.
"We're hoping to really generate the history and bring people into town," added Collins, who grew up in Fort Recovery but now lives in nearby Portland, Ind.
Battles - to be determined by the generals the morning of - will be held between the Union and Confederate armies on both Saturday and Sunday of the weekend. The public will be sectioned off from the field of battle but will be able to follow its progression through various safe areas. Schools will be invited to bring students on that Friday for various educational demonstrations.
Collins and Bechtol, who are receiving help from seasoned re-enactment veterans such as Tom Laws of Lafayette, Ind., said they have ample land to facilitate a diverse war zone.
"This is a huge canvas to play on," Bechtol said as he looked over an aerial map of the Ambassador grounds.
Earthen mounds, bunkers, dirt and brush piles will be incorporated for the battles. The Union and Confederacy forces will be separated in two different encampments.
Collins and Bechtol said they have no idea how many participants may come - but it could be many, as Fort Recovery is a good middle point for re-enactors located in Cincinnati, Columbus and areas of Indiana.
"We take walk-ins as long as we know they're coming," Collins said.
The two already have notified other re-enactors of the event through word-of-mouth and brochures.
Re-enactors are paid a bounty - or small amount of money - if they follow all the rules, Collins said. For instance, all artillery men and women must participate in the night fire to collect their bounty.
"Just because they come doesn't mean they're going to get paid," he said.
Bechtol said he is glad he gave himself almost two years to prepare for the first Civil War at the Fort. He hopes it becomes an annual event.
"He (Collins) and I talked about this for two years," Bechtol said, pointing out the Ambassadors are hoping to take in additional revenue through the event for community projects.
Both village officials and the Fort Recovery Historical Society have been very supportive and helpful in the planning, Bechtol said.
"The town has been great. We've had a really good response," Collins said.
For more information visit www.fortpull.com.

Re-enacter says experience 'intense':
William Collins knows the Civil War re-enactors across from him have only blanks in their rifles.
But the experience is still intense.
And just as strong is his desire to fall to the ground like a corpse - making the seemingly fatal gunshot wound look as believable as possible.
For nine years Collins, a Fort Recovery native now of Portland, Ind., has participated in Civl War re-enactments across the U.S., including at Gettysburg the last three years.
"There was so much smoke at Gettysburg you couldn't see," he says.
The camaraderie among re-enactors, the recreation of history and the opportunity of meeting others from throughout the world continues to attract him.
"It's worldwide. It's an expensive hobby, it's a fun hobby, it's a learning hobby," says Collins, who has appeared in two videos, including a documentary on PBS.
Collins and other members of the Fort Recovery Ambassadors are planning the first annual Civil War at the Fort, a weekend of re-enactments at Ambassador Park. He says it will be a family friendly event.
Collins says his daughters have joined him in the past at various re-enactments.
"We encourage family involvement," he says.
Though such events happen all year, a majority of the re-enactments occur from April until November, he says.
"You can be at a show every weekend if you really wanted to," he says.
Before each re-enactment, the generals decide which battle to wage - and which side is going to win. Collins says many infantries are more than willing to accept new recruits as long as they are serious.
For those interested, Collins suggests contacting someone involved with re-enactments or searching for nearby infantries online or through publications like the Camp Chase Gazette.
- William Kincaid