Saturday, May 23rd, 2009
Korean War memories
Local veteran drove top generals, celebrities like Marilyn Monroe
By Shelley Grieshop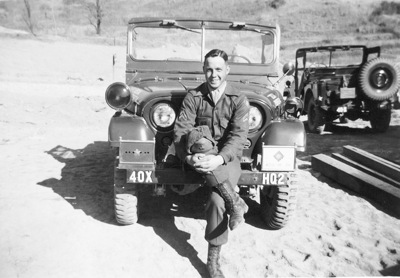 BURKETTSVILLE - Ivo Schwieterman's memory of the Korean War is much different than most.
There are no bloody battlefields or noisy gunfire in his recollection as a soldier in the Army National Guard in the 50s. But the image of one busty blonde is etched in his brain forever - Marilyn Monroe, who sat next to him in his jeep in February 1954.
"She flew in to our base and landed on the helicopter pad. I was told to pick her up and drive her to the mess hall to eat," says the 77-year-old Burkettsville resident and former owner of Ivo's Bar in the small village. "It was a short trip, just a 5-minute drive."
Accompanied by another military man in the rear of the open jeep, Schwieterman says he spoke very little to the celebrity sitting beside him. He did, however, make one observation.
"If she'd smiled, her face would have cracked. She had so much make-up on," he says with a laugh.
While on her honeymoon with hubby Joe DiMaggio, Monroe had decided to visit the troops that winter. Weeks later, on a make-shift, outdoor stage on the edge of the military base, she danced and sang songs like "Diamonds Are a Girls' Best Friend" to the homesick soldiers.
Schwieterman snapped several photos of Monroe that day, which are tucked away with his war memorabilia. Unfortunately none of the photos show him and her together. He was the photographer and rarely is the subject in his treasured photo album from the war, he adds.
"I had this two dollar (and)
ninety-eight cent box camera. Heck, I think it was the only camera in the country. I took pictures every chance I got," he says of the black and white photos that now curl a bit on the edges.
Playing chauffeur to Monroe was a grand experience, Schwieterman says, but not near as honorable as his full-time job during the war. He was the personal driver for General John Hill.
"General Hill, what a great man he was," he recalls.
Schwieterman also hauled other important military men such as Army Chief of Staff Maxwell Taylor, a five-star general.
It was luck and prayer that kept Schwieterman safe from harm after his unit, the 40th Division of California, arrived in Korea in July 1953, he says.
"We were going to get up that next day at 6 a.m. to go the front line. But at 11 p.m. that night they quit fighting," he says of the temporary cease fire.
His division was ordered to move back and dig new trenches and fox holes. At one point they endured 35 days without a shower and were served some pretty nasty food, he recalls.
"Have you ever eaten liver for 11 days straight?" he asks. "Yuck!"
One day on his way to the shower, he stopped by the motor pool and asked if they needed a jeep driver. Two weeks later, in October 1953, he was transferred to the battalion motor pool. The rest, as they say, is history.
As a personal driver, he was treated better than most soldiers. The generals ("full birds" as they were called), other officers and two drivers ate together in a secluded mess hall with 14 cooks.
"Consequently, I gained about 40 pounds while I was there," he laughs.
He loved cruising the base and driving the generals wherever they needed to be. The only downside of the job was the open jeep, which provided quite a chill on cold days and nights, Schwieterman says.
He also was responsible for keeping the jeep maintained and clean. The local car wash was a nearby creek.
"My jeep was like a weapon, like a soldier's rifle, and it was my duty to take care of it," he explains.
In August 1954, Schwieterman flew back to the states to finish out his two-year tour of duty at Fort Meade in Maryland. Although separated from General Hill, the full bird made sure his driver was well taken care off, often supplying him with weekend passes.
To add to Schwieterman's good fortune, Hill's brother was the commander in charge at the Maryland base.
When asked if he felt guilty for the role he was cast in a war that took the lives of nearly 34,000 military men and women, Schwieterman shakes his head no.
"I did my job like I was told and have always been grateful I didn't have to fight," he says.