Tuesday, June 23rd, 2009
Celina rolls to an easy victory over St. Henry
By Gary R. Rasberry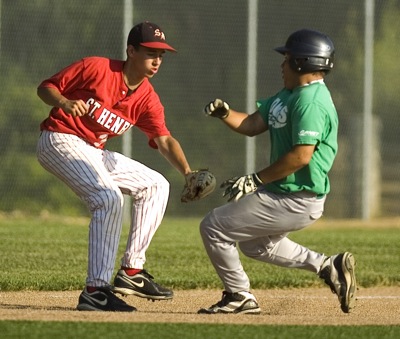 After playing a combined 18 innings in its first two meeting with St. Henry, Celina looked to have no interest in working overtime on Monday night in the rubber match between the two Mercer County ACME teams.
The Bulldogs scored five times in the bottom of the first and Caleb Shreves pitched a three-hit shutout as Celina drilled the Redskins 12-0 in five innings at Montgomery Park.
Celina, which has won two of three over St. Henry, moves to 15-7 on the summer as the Redskins suffer their second straight run-rule loss to drop to 7-9.
After losing in 10 innings at St. Henry a couple weeks ago, then needing eight innings to win the game at the Celina round-robin tournament later that week, Celina looked ready to put the game out of reach early.
It started by sending 10 men to the plate in the bottom of the first. Hayden Heiby, Darin Waterman, Kyle Markle and Shreves combined for consecutive hits and Kahl Knapke lofted a sacrifice fly to help with the scoring. St. Henry helped Celina out with one error and a wild pitch that scored Shreves.
After a scoreless second, Celina put the game out of reach in the third, sending 12 men to the plate and coming back with seven runs, not only chasing Redskin starter Tyler Bruns after just 21/3 innings, but knocking out reliever Nathan Uhlenhake, who allowed four runs while getting just one out. Darin Waterman tripled in two runs and scored when the throw back into the infield relay was wild, allowing him to scamper home.
Celina collected seven hits in the third and 12 hits in the game. Of the 12 players that got at-bats in the game, eight managed to tally a base hit.
"We've been doing a good job being focused at the plate," said Celina coach Rob Howell. "Standing back, being selective, looking for our pitch.
"We've hit a lot more ground balls than we've had the last two weeks. That's a key to our success right now."
Meanwhile, Shreves was managing well on the mound, giving up a single in the second and two more in the third, but getting solid defense in not allowing a Redskin to reach third base safely the entire game.
Shreves helped his cause, going 3-for-3 and scoring twice. Darin Waterman went 2-for-3 with three RBI, adding a double with his triple.
Both teams host county circuit doubleheaders tonight. Celina hosts 9-4 Marion Local while St. Henry faces Fort Recovery. Both twinbills kick off at 6 p.m.